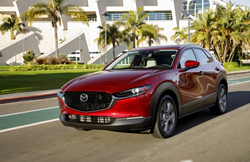 IRVINE, Calif. (PRWEB) September 14, 2020
This September, Tuttle-Click Mazda is currently offering unique manager specials for customers in the Irvine, CA area. This includes specific lease offers for new vehicles at varying price points. Despite its recent release, select 2021 Mazda CX-30 models are available under one special while 2020 Mazda3 Sport models and a 2020 Mazda CX-5 are available as well. Each special has a specific number of vehicles offered at the given lease price and are all closed-end leases for 36 months. These offers also expire by September 30, 2020 and are limited to 10,000 miles per year with $0.15 per excess model.
Up to eight 2021 Mazda CX-30 models are available in a manager special this September. While the model was recently distributed to dealerships, customers can utilize a lease special offered by Tuttle-Click Mazda. These select models are available for lease at $209 per month plus tax for 36 months with $2,999 due at signing.
Customers looking to lease a sedan can do so through the available lease offer on more than five 2020 Mazda3 Sport models. The special lease price starts at $2,300 due at signing and continues with a price of $179 per month plus tax for 36 months.
Lastly, a single 2020 Mazda CX-5 model is available in the manager special. Of the three models listed in the special, the CX-5 provides the most space as a small crossover. It can be had for $229 plus tax per month with $2,999 due at signing.
Those interested in leasing a specific vehicle listed above are welcomed to contact the dealership directly. Tuttle-Click Mazda can be found at 41 Auto Center Drive in Irvine, CA. The dealer can also be contacted by phone at 949-245-6306 or online on their website at https://www.tuttleclickmazda.com/.