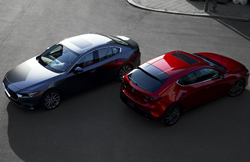 IRVINE, Calif. (PRWEB) May 21, 2020
During the month of May, Tuttle-Click Mazda has been running their Memorial Day Event for those in the Irvine area. The event includes special offers on select new 2019 Mazda3 Hatchback models. The dealership currently has two remaining models available in their current special offer. Each model will receive $4,000 cash off the initial sales price. The offer expires on May 31, 2020 and does not include tax in the below figures.
The first model available in the Memorial Day Event special is a base trim 2019 Mazda3 Hatchback. With a dark-gray color, the model comes with all-wheel drive and a six-speed automatic transmission. It receives an estimated 32 miles per gallon (MPG) when on the highway with a 24 MPG rate on city roads. Although the original price of the vehicle is $26,220, the model is for sale at $22,220 with the $4,000 cash off special.
The second model remaining during the Memorial Day Event at Tuttle-Click Mazda is a 2019 Mazda3 Hatchback with the Preferred Package. The Preferred Package adds heated seats and the 12 speaker Bose® premium audio sound system to the base trim. The vehicle has a black exterior and is equipped with front-wheel drive. Because of its drive train, it is estimated to receive 35 MPG on highways and 26 MPG on city roads. Originally priced at $26,120, the special lowers it to just $22,120.
Customers interested in either new 2019 Mazda3 Hatchback models can contact Tuttle-Click Mazda directly. They can be found at their location on 41 Auto Center Drive in Irvine, over the phone at (949) 245-6306 or online through their website at https://www.tuttleclickmazda.com/.