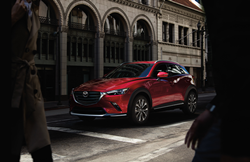 IRVINE, Calif. (PRWEB) April 22, 2020
During this time, Tuttle-Click Mazda is providing two unique programs geared towards healthcare workers. Both the Healthcare Worker Appreciation and Essential Car Care program allow those in the healthcare industry to receive specials on select new Mazda models or free servicing on their current vehicle. To use either offer, customers should provide a driver's license and proof of occupancy at an eligible facility. A list of eligible facilities and can be found on Tuttle-Click Mazda's specials page.
The first program offered to healthcare workers is the $500 Healthcare Worker Appreciation program. With the program, those eligible can receive $500 bonus cash towards the purchase of a new 2019 or 2020 Mazda vehicle. The money can be combined with some private specials or leases and offers. The offer expires on June 1, 2020.
The second program for healthcare workers is the Essential Car Care program. Select workers are provided with a free oil change and enhanced vehicle cleaning for most car, crossover or SUV models. The offer extends to most non-Mazda makes and models. Some vehicles are excluded, such as vehicles that are exotic, classic cars, off-road vehicles or models with greater than 8-quart engine oil capacity. The program allows each worker to receive the service on one car per program period. Those interested may use the service between April 16 and May 4, 2020.
For additional details on each program, you can contact Tuttle-Click Mazda. The dealership is located at 41 Auto Center Drive in Irvine, CA. However, they can be reached by phone at (949) 245-6306 or online at https://www.tuttleclickmazda.com/.