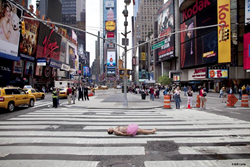 "...it's a real treat for us to have Bob and Linda hop on the bus to greet fans." Georgette Blau, President of On Location Tours
New York, NY (PRWEB) October 01, 2014
On Location Tours, one of the world's largest TV & movie tour companies, will join the fight against breast cancer by joining the Unity in Pink fundraising event on Saturday, November 1. On Location Tours will donate all proceeds from the 11am and 3pm Sex and the City Hotspots tours to The Tutu Project™ for The Carey Foundation. Fans interested in joining either tour will have the opportunity to meet Bob Carey, who created The Tutu Project in 2003 to support the fund raising efforts of The Carey Foundation for men and women with breast cancer. On Location Tours will provide a complimentary tutu for each guest who wants to pose for a photo op with Bob and his wife Linda.
"Ever since I first saw Bob Carey put on his pink tutu, I have been following his travels around the country," says Georgette Blau, President of On Location Tours. "Carrie Bradshaw and her pink tutu are synonymous with Sex and the City, so it's a real treat for us to have Bob and Linda hop on the bus to greet fans."
Tickets for the Saturday, November 1st 11am and 3pm tours can be purchased at onlocationtours.com or by calling 212-913-9780. Tickets are $49 and all proceeds will go directly to The Carey Foundation.
About On Location Tours
On Location Tours, the Concierge Choice Award Winner for Sightseeing and Tours, is among the world's largest TV and movie tour companies with tours in New York City and Boston. The tours feature sites from the hottest and latest on the big and small screen. Founded in 1999, it is one of the East Coast's most popular tourist attractions. Some of the tours include: our New York TV & Movie Sites, Sex and the City Hotspots, Gossip Girl Sites, Sopranos Sites, TCM Classic Film Tour, TMZ Tour NYC, Central Park TV & Movie Sites and Boston TV & Movie Sites.
About The Carey Foundation
Professional photographer Bob Carey took a self-portrait wearing only a pink tutu after he and his wife Linda moved to New York in 2003. Eight months later, Linda was diagnosed with breast cancer, reminding Bob that laughter can be the best medicine. The tutu returned, and Bob photographed himself wearing it in unlikely places--subway stations, amusement parks, beaches, parking lots-- lifting the spirits of Linda and her fellow patients. The work, now referred to as the "The Tutu Project," went viral on the Internet in 2012.
The overwhelmingly positive reaction inspired Bob and Linda to make a book of the images entitled Ballerina and start the Carey Foundation, a non-profit foundation supporting women and their families during their journey with breast cancer. To help distribute the funds we partner with organizations like CancerCare, and For 3 Sisters, non-profits that support men and women in their journey with breast cancer.