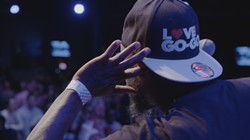 SILVER SPRING, Md. (PRWEB) May 20, 2020
TV One celebrates Black Music Month with the debut of its original documentary, THE BEAT DON'T STOP, airing on Sunday, June 21 at 8 P.M. ET/7C, followed by an encore presentation at 10 P.M. ET/9C. The long-awaited documentary was a year in the making and highlights the history and legacy of Go-go music. It features trailblazers, legends and stars who have championed the sound throughout the decades. The film also delves into the evolution of the Go-go culture, celebrating the legacy of the Godfather of Go-go music, Chuck Brown, and the pivotal role Radio One played as the original broadcast platform for the music genre. Additionally, it examines the passion that fueled social movements, including the internationally recognized Don't Mute DC, which emphasized the music's power and influence amid a rapidly changing cultural landscape.
"I always sought to represent the underrepresented. I always gave voice to the voiceless, and Go-go was very much that," said Cathy Hughes, Chairwoman and Founder, Urban One who served as Executive Producer for the project. "We are proud to be a part of the Go-go story and grateful to tell the story of the men and women who helped to create and promote this amazing sound."
THE BEAT DON'T STOP pays homage to the unique contribution of Go-go music to the musical landscape. It features a host of celebrities, artists, music historians, and community leaders including rapper Doug E. Fresh; band members from Junk Yard Band, Trouble Funk, E.U., Backyard Band, TOB, TCB and Maiesha and the Hip Huggers; the dance crew Beat Ya Feet Finest; music historians Dr. Natalie Hopkinson and Kato Hammond; music journalists Ericka Blount and Alona Wartofsky; Don't Mute DC organizer Ron Moten; talent promoter and former MCA Records executive Bo Sampson; music producer Tone P; Radio One Personality Angie Ange; DJ Flexx; hip hop artist DJ Kool; and many others.
Big Brother Konan who hosted the first daily radio show in the country dedicated to Go-go music, on Radio One station, WOL-AM, also lends his account to this comprehensive look at the social power and influence of this unique art form.
Go-go music is the indigenous sound of Washington, D.C., which emerged out of underprivileged neighborhoods during the height of the crack cocaine epidemic in the 1980s. It was largely blamed for the rise in crime and violence that paralyzed D.C. THE BEAT DON'T STOP takes viewers through that history and addresses how the music served as a platform for African Americans to elevate and address issues such as class struggles, gentrification and the music's impact on black culture.
THE BEAT DON'T STOP is executive produced by Urban One Founder and Chairwoman Cathy Hughes. For TV One, Deirdre Leake-Butcher and Tracey Uy served as Executive Producers, with Bo Sampson of Bodacious One Productions serving as Co-Executive Producer. Nile Cone served as senior writer and producer. Susan Henry is the Executive Producer in Charge of Production, Donyell Kennedy-McCullough is Senior Director of Talent & Casting, Robyn Greene Arrington is Vice President of Original Programming and Production, and Michelle Rice is General Manager.
For more information about TV One's THE BEAT DON'T STOP, visit the network's http://www.tvone.tv. TV One viewers can also join the conversation by connecting via social media on Twitter, Instagram and Facebook (@tvonetv) using the hash tag #THEBEATDONTSTOP.
###
ABOUT TV ONE:
Launched in January 2004, TV One serves 59 million households, offering a broad range of real-life and entertainment-focused original programming, classic series, movies and music designed to entertain and inform a diverse audience of adult black viewers. The network represents the best in black culture and entertainment with fan favorite shows Unsung, Uncensored, ATL Homicide, Fatal Attraction and Urban One Honors. In addition, TV One is the cable home of original blockbuster films including When Love Kills: The Falicia Blakely Story, Love Under New Management: The Miki Howard Story, Bobbi Kristina and The Bobby DeBarge Story. TV One is solely owned by Urban One, Inc., formerly known as Radio One, Inc. [NASDAQ: UONE and UONEK, http://www.urban1.com , the largest African-American owned multi-media company primarily targeting Black and urban audiences.