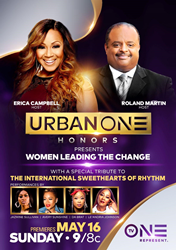 SILVER SPRING, Md. (PRWEB) May 12, 2021
TV One is partnering with an illustrious group of sponsors to support the URBAN ONE HONORS tribute special, which heralds the exemplary accomplishments of African American women. The special will air on TV One on Sunday, May 16, 2021, at 9 p.m. ET/8C and simulcast for the first time on its sister network CLEO TV. Sponsors include Amazon, Ford Motor Company, McDonald's, PNC Bank, Toyota, and Verizon.
"We are thrilled to partner with an incredible group of marketers, who understand the importance of celebrating the accomplishments of African-Americans and that invest in uplifting both individuals and organizations that are vital to the Black community," said Rahsan-Rahsan Lindsay, TV One EVP of Ad Sales and Marketing
As previously announced, this year's theme, 'Women Leading the Change,' will commemorate the myriad achievements of women leaders who are blazing trails and creating new pathways for others in their respective areas of expertise. Honorees include Stacey Abrams who will be heralded as the Voting Rights Champion, an award dedicated to a fearless leader whose efforts help to build political infrastructure by turning out voters and protecting their votes. Robin Rue Simmons will also be named Reparations Ambassador for her work to break down systemic racism and barriers that have held African Americans back.
Additionally, McDonald's and its Black and Positively Golden Movement will sponsor the Investigative Journalism Crusader award which will be bestowed upon Nikole Hannah-Jones, a media maven who is reframing the national conversation by covering the impediments and contributions made by Black Americans.
Ford Motor Company will present the Backstage Pass, which will feature in-show segments offering exclusive interviews with today's top performers, entertainers and guests throughout the evening.
To continue the 'Women Leading the Change' theme, Verizon will sponsor the "Hometown Sheroes" initiative, honoring women of distinction in Radio One markets across the country who are making a difference to enhance the lives of those in their communities. Radio One listeners are encouraged to nominate local "Hometown Sheroes" by submitting their entries on local market websites. The winners will be featured in custom vignettes on the radio stations in their communities and recognized as "Hometown Sheroes," touted for the important work they do for the community. Two "Hometown Sheroes" will each be profiled. Verizon will also give a special salute to the "Hometown Sheroes" via a thoughtful content piece. The three content pieces will be shared during the Urban One Honors telecast as well as on http://www.NewsOne.com.
The URBAN ONE HONORS fan zone sponsored by PNC Bank will deliver an exhilarating experience tailored to the loyal fans at home. The virtual activation will elevate the audience's engagement to bring them closer to the entertainment and music by appearing on-screen during the award show. Attendees will be offered an exclusive moment to celebrate change-makers, essential workers, industry leaders, tastemakers, and Black cultural icons. The Virtual Fan Zone will comprise female students from some of the most esteemed Historical Black Colleges and Universities (HBCUs). URBAN ONE HONORS will spotlight the pre-selected fan zone attendees during branded show bumpers providing exclusive on-screen moments throughout one of the biggest nights in Black entertainment and culture.
Amazon will sponsor the iOne Digital categories that will provide additional profiles of Dr. Ala Stanford, who answered the call to eliminate institutional barriers preventing healthcare to those in her community, and Kim Ford, a resilient provider of direct service and resources to individuals in crisis within the community she serves.
iOne Digital will also offer partners exclusive coverage and editorial content surrounding this year's hybrid activation and honorees. From virtual experiences with celebrity guests to exclusive tributes and photo galleries celebrating the honorees, digital content will be curated and presented through engaging video and editorial features. iOne Digital will create up to ten (10) sponsor-able categories across its most relevant brand sites to align with the URBAN ONE HONORS during the live broadcast.
The inspiring night of excellence will also feature a salute to some of our cities most prolific mayors and the sororities from the historically Black Greek Letter Organizations. The night will feature a celebration of several prominent women leading our nation's cities and the work they are doing to inspire impactful change within the Black communities that they serve. The mayors include Charlotte Mayor Vi Lyles, Washington, D.C. Mayor Muriel Bowser, Chicago Mayor Lori Lightfoot, and Atlanta Mayor Keisha Lance Bottoms. Additionally, "Sisters in Sororities" will feature the work of the four sororities of the Divine Nine led by President Glenda Baskin Glover (Alpha Kappa Alpha), President Beverly E. Smith (Delta Sigma Theta), President Valerie Hollingsworth Baker (Zeta Phi Beta) and President Rasheeda S. Liberty (Sigma Gamma Rho) and showcases the importance of sisterhood. It will also highlight how they are working together to support African American college students who are looking for community as they pursue their education.
Now in its third year, URBAN ONE HONORS was created to acknowledge and pay homage to individuals and organizations whose work significantly impacts society and culture. Grammy-Award-winning gospel artist Erica Campbell and award-winning journalist and author Roland Martin will host the event.
URBAN ONE HONORS is executive produced for TV One by Eric Tomosunas and Robert Boyd of Swirl Films and produced by Jazz Smollett. Susan Henry serves as Executive Producer in Charge Producer for TV One. Kashon Powell is Vice President of Programming for Radio One, and Donyell Kennedy-McCullough is Senior Director of Talent and Casting. Robyn Greene Arrington is Vice President of Original Programming and Production.
For more information, please visit http://www.UrbanOneHonors.com to check out exclusive behind-the-scenes content for Urban One Honors. TV One viewers can also join the conversation by connecting via social media on Twitter, Instagram and Facebook (@tvonetv) using the hashtag #URBANONEHONORS.
ABOUT SWIRL FILMS
Swirl Films is one of the leading independent TV & Urban Film Production companies in the country, based out of Atlanta, Georgia, and founded by Eric Tomosunas in 2001. Swirls project slate includes the wildly popular original drama series, Saints & Sinners, and high-quality films and series produced for TV One, BET, Bounce, Lifetime, Hallmark, Reel One, Netflix & Up TV. Swirl Films provides services and content across various areas of production spanning from script to screen, for movies, biopics, scripted series, award shows, and documentaries. Purchased in 2019, Swirl Films owns and operates its own 100,000 square foot film studio in Atlanta.
ABOUT URBAN ONE, INC.
Urban One, Inc. (urban1.com), together with its subsidiaries, is the largest diversified media company that primarily targets African-American and urban consumers in the United States. Urban One is the parent company of Radio One, Reach Media, Inc. (blackamericaweb.com), TV One (tvone.tv), CLEO TV (mycleo.tv), iOne Digital (ionedigital.com), and One Solution. Formerly known as Radio One, Inc., the company was founded in 1980 with a single radio station and now owns and/or operates 60 broadcast stations (including HD and low power television stations) in 14 urban markets in the United States, making it one of the nation's largest radio broadcasting companies. The Company's growth led to diversification into syndicated radio programming, cable television, and online digital media. As a result, in 2017, Radio One, Inc. was renamed Urban One, Inc. to better reflect the Company's multi-media operations.
While the Company was renamed Urban One, Radio One remains the brand of the radio division and all of its radio assets. Through Reach Media, Inc., the Company operates nationally syndicated radio programming, including the Rickey Smiley Morning Show, the Russ Parr Morning Show, and the DL Hughley Show. TV One is a national cable television network serving more than 59 million households, offering a broad range of original programming, classic series, and movies designed to entertain, inform and inspire a diverse audience of adult Black viewers. Launched in January 2019, CLEO TV is a lifestyle and entertainment cable television network targeting Millennial and Gen X women of color. iOne Digital is a collection of digital platforms providing the African American community with social, news, and entertainment content across numerous branded websites, including Cassius, Bossip, HipHopWired, and MadameNoire branded websites. One Solution provides award-winning, fully integrated advertising solutions across the entire Urban One multi-media platform. Through its national, multi-media operations, the Company and One Solution provides advertisers with a unique and powerful delivery mechanism to African American and urban audiences. Finally, Urban One owns a minority interest in MGM National Harbor, a gaming resort located in Prince George's County, Maryland.
ABOUT TV ONE
Launched in January 2004, TV One serves 49 million households, offering a broad range of real-life and entertainment-focused original programming, classic series, movies, and music designed to entertain and inform a diverse audience of adult black viewers. The network represents the best in black culture and entertainment with fan favorite shows Unsung, Uncensored, ATL Homicide, Fatal Attraction, and Urban One Honors. In addition, TV One is the cable home of original blockbuster films including When Love Kills: The Falicia Blakely Story, Love Under New Management: The Miki Howard Story, Bobbi Kristina, and The Bobby DeBarge Story. TV One is solely owned by Urban One, Inc., formerly known as Radio One, Inc. [NASDAQ: UONE and UONEK, http://www.urban1.com , the largest African-American-owned multi-media company primarily targeting Black and urban audiences.