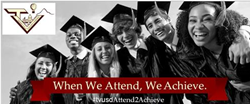 "Our teachers and staff do a remarkable job of designing and delivering high-quality instructional programs, and students who attend school regularly benefit immensely," shared TVUSD Deputy Superintendent McClay.
TEMECULA, Calif. (PRWEB) April 04, 2019
In an effort to address chronic absenteeism, the Temecula Unified School District has established a goal this year to maintain an attendance rate of 96% or higher. In order to do this, they have developed a strategic plan to assist each student in having no more than seven days of absence during the school year.
The California Department of Education recently released the first statewide data on chronic absenteeism and it showed that 1 in 10 California students was chronically absent last year, with foster children, homeless students, African-American students, and Native American students posting the highest rates. Interesting to note, kindergarten students are the most likely of elementary school students to be chronically absent. "This is particularly problematic," shared Deputy Superintendent McClay, "as kindergarten is a critical year for learning early reading skills, number sense, and social skills."
"We know that attendance at school is directly tied to increased student achievement," shared McClay. In fact, eighty-three percent of chronically absent California kindergartners and first graders were unable to read proficiently by the end of third grade. "So the District has initiated a campaign to remind parents and students of the importance of being in class, every day," McClay added.
The plan involves a three-tiered approach, with the Tier I strategies being universal and low-cost and increasing to individual plans and higher cost in Tier III. Examples of Tier I strategies, aimed at at-risk students who are missing 5-9% of school, include creating positive relationships, ensuring a positive school climate, and building the understanding of the impacts of absenteeism among parents. Tier III strategies, which target students who are missing 20% or more of school, involve interagency support from throughout the county.
While all 27 schools within the TVUSD are mindful of their attendance rates and working to improve levels of absenteeism, the district identified eight schools to serve as pilot schools for an attendance campaign this year. "The schools were selected after an in-depth analysis of absenteeism at the sites, broken down by student groups," shared McClay. The pilot schools are utilizing an Attendance Toolkit, which provides campaign materials like attendance letters, marketing brochures, school site incentives, and other resources. Personalized attendance banners and posters were also created for each TVUSD school site to proudly display on their campuses.
As part of the program, monthly reports are pulled to review each site's data, including a specific review of individual students who have struggled with attendance. "When a student continues to have high levels of absenteeism," shared Deputy Superintendent McClay, "a Student Review Attendance Team (SART) meeting is convened, which includes a counselor, psychologist, teachers, social/emotional staff member, and district office administrator." McClay went on to share that the district believes the inclusion of a social/emotional expert on the team has become a valued component, as these staff members are able to provide emotional and behavioral supports as well as help parents access outside resources.