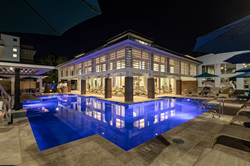 Our residents' satisfaction is a major driving force for our business.
NEWPORT NEWS, Va. (PRWEB) February 04, 2021
Leading apartment industry research firm, J Turner Research, has announced the 2020 Elite 1% Online Reputation Assessment (ORA™) Power Ranking of properties with the best online reputation in the nation as determined based on individual ORA™ scores. The research firm partners with Multifamily Executive to publish the ORA™ Power Ranking, evaluating top properties and management companies in the U.S. based on their ORA™ scores, a cumulative compilation of a property's ratings across multiple review sites. The online ratings of more than 122,000 properties are monitored and analyzed nationwide, and properties are assigned a score of 0-100. This score aids in comparing properties and portfolios against one another and serves as a reference point for local, regional, and national competition.
In the seventh annual 2020 Elite 1% ORA™ Power Ranking, 1,303 properties made it to the ORA™ Elite club (only 12 more than last year). Of those 1,300 plus apartment communities, 12 Drucker + Falk (DF) Multifamily communities made the list with an ORA score of 90% or higher.
Drucker + Falk, a best in-class multifamily management organization and full-service real estate and investment firm, is proud to be recognized in the Elite 1% again this year for twelve communities, spanning three states. DF Multifamily currently manages apartment homes in 13 states: Alabama, Arkansas, Florida, Georgia, Indiana, Kentucky, Maryland, North Carolina, Ohio, Pennsylvania, South Carolina, Tennessee and Virginia.
See below for the 12 Drucker + Falk - managed apartment communities on the Elite 1% list:
The Crossings at Red Mill Apartments | Virginia Beach, VA
Venture Apartments iN Tech Center | Newport News, VA
Sapphire at Centerpointe | Midlothian, VA
The Chapman Apartments | Hampton, VA
Logan's Landing Apartment Homes | Lynchburg, VA
Lumen | Hampton, VA
The Choices at Holland Windsor | Virginia Beach, VA
Haygood Halls | Virginia Beach, VA
The Charleston | Columbus, OH
The Lincoln Apartments | Raleigh, NC
The Chase Apartments | Burlington, NC
AXIS at PTC | Hampton, VA
Tarra Secrest, Director of Marketing + Property Development for Drucker + Falk, said, "Our residents' satisfaction is a major driving force for our business. We find their feedback to be essential in everything we do and having multiple DF communities named to the ORA Power Ranking list each year is a testament to the daily efforts of our on-site teams to create positive experiences for each and every one of our residents."
ABOUT DRUCKER + FALK
Founded in 1938, Drucker + Falk is a full-service real estate and investment firm managing a diverse portfolio of nearly 40,000 apartment homes and approximately 3,000,000 square feet of office, retail and industrial space in 13 states. In addition to managing a broad range of properties, including class A+ to affordable apartment communities, mixed-use and all types of commercial properties, Drucker + Falk partners with clients on developing new properties, renovating and repositioning assets, converting historic properties to unique, upscale apartment homes and offers commercial leasing and sales services.
ABOUT ORA POWER RANKINGS
Developed by J Turner Research, the ORA Power Rankings are a monthly, independent ranking of apartment properties and management companies based on their Online Reputation Assessment (ORA™) scores. A property or management company is not required to be a J Turner Research client to qualify for this ranking, which is published by J Turner's media partner Multifamily Executive. To learn more or to request your ORA™ score, visit http://www.jturnerresearch.com/about/what-is-ora-score.