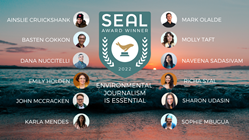 SAN DIEGO (PRWEB) February 08, 2023
This year's list of twelve honorees is comprised entirely of first-time SEAL Award winners: Ainslie Cruickshank of The Narwhal, Basten Gokkon of Mongabay, Dana Nuccitelli of Yale Climate Connections, Emily Holden of Floodlight News, John McCracken of Grist and Sierra Magazine, Karla Mendes of Mongabay, Mark Olalde of ProPublica, Molly Taft of Earth3r (Gizmodo), Naveena Sadasivam of Grist, Richa Syal of The Guardian and National Geographic, Sharon Udasin of The Hill, and Sophie Mbugua of Africa Climate News.
Of particular interest among this year's winners, SEAL Awards wishes to highlight Karla Mendes for her powerful work covering the continued encroachment of global corporations into indigenous Amazon lands, and the work of Richa Syal to highlight topics of environmental justice as commercial and real estate interests from the global north intersect African waterways and resource distribution. In North America, Mark Olalde and Ainslie Cruickshank addressed both the environmental and human rights offenses of the mining and fossil fuels industries.
SEAL Awards intentionally focused the search for 2022 winners on independent and emerging publications in an effort to celebrate and encourage journalists to take initiative in filling the information gap. "Given that knowledge about the escalating climate crisis among the public could not be more critical at this time, the proportion of coverage given to environmental topics among mainstream print and broadcast news outlets is startling," said Safa Bee, Impact Lead for SEAL Awards. "Our selection of journalists for this year's award stand out for their efforts to raise awareness of the interplay between social, governmental and market forces in shaping climate justice. Underserved communities continue to bear a disproportionate share of the consequences for shortfalls in environmental policy."
"Environmental journalism is an essential public good," added Matt Harney, Founder of the SEAL Awards. "Environmental journalists' work of translating scientific research and policy developments into digestible writing requires real expertise and is under-appreciated. The SEAL environmental journalism award was created to reward journalistic excellence while encouraging news organizations to invest in more climate crisis coverage."
Winners were selected based on a review of each journalist's work, data-driven analysis of the impact and reach of their articles, and consideration for writers who are bringing fresh perspectives and social relevance to environmental issues. In 2022, SEAL Awards placed particular emphasis on highlighting journalists whose work elevates local and indigenous voices in their coverage of the environmental crisis.
2022 SEAL ENVIRONMENTAL JOURNALISM AWARD WINNERS:

ABOUT SEAL AWARDS
SEAL (Sustainability, Environmental Achievement & Leadrship) Awards is an environmental advocacy organization that honors leadership through our corporate sustainability awards & environmental journalism awards while funding research and pursuing our own environmental impact campaigns.
The SEAL Awards core pillars are: