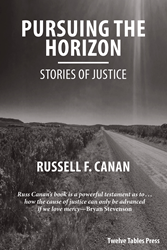 "For decades judges have come from the ranks of prosecutors and private lawyers who have never represented the accused, the disfavored, the convicted or the condemned. Russ Canan's book is a powerful testament as to why that should change and how the cause of justice can only be advanced if we love
NORTHPORT, N.Y. (PRWEB) December 02, 2020
Twelve Tables Press today announces the publication of Pursuing the Horizon: Stories of Justice, by Russell F. Canan, currently a Washington, D.C. Superior Court Judge.
Pursuing the Horizon offers a collection of essays and courtroom stories from an activist, death penalty lawyer, and Washington, D.C., judge struggling to seek justice in the courtroom, in the fields where migrant farmworkers toil, and in the rice paddies of Vietnam.
The book explores justice in all its forms from freedom for beaten migrant farmworkers in the shadow of the Ku Klux Klan, to life itself in a last-minute death row plea for mercy to Governor George Wallace of Alabama, only to witness the client killed in a botched execution in the electric chair that shocked the world. In another case, a jury's capacity for forgiveness and redemption is tested as the defense team fights to spare a broken young man from the gas chamber.
Justice from the other side of the bench looks at the challenge for a judge wrestling with the age-old quandary of whether the ends justify the means in a criminal case when strictly following the law would result in a miscarriage of justice. The judge also anguishes with the solemn decision as to whether to terminate life support in one case and experiences the pressure of presiding over a high-profile murder case.
"Russell F. Canan's powerful and illuminating narrative is a must read for anyone who aspires to pursue justice while seeking to understand the challenges and conditions for achieving it. The book is written with passion and profound moral clarity."—Greta Van Susteren, journalist and former criminal defense attorney
"For decades judges have come from the ranks of prosecutors and private lawyers who have never represented the accused, the disfavored, the convicted or the condemned. Russ Canan's book is a powerful testament as to why that should change and how the cause of justice can only be advanced if we love mercy."—Bryan Stevenson, Director, Equal Justice Initiative
Contact: steven.errick@twelvetablespress.com for a REVIEW COPY or to schedule an AUTHOR INTERVIEW