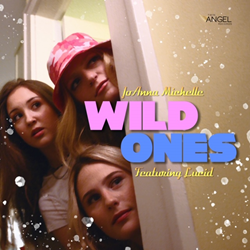 JoAnna Michelle's 'Wild Ones' unites the world together with a disregard for structure and order to celebrate everyone and to live in the moment.
NEW YORK (PRWEB) February 13, 2020
Impacting dance floors and international radio this week is the brand spankin' new Twin Angel Records' release, "Wild Ones" from JoAnna Michelle featuring Lucid. The new single is written by JoAnna and Donavan Johnson, also known as XV. "Wild Ones" unites the world together with a disregard for structure and order to celebrate everyone and to live in the moment. Groove to the infectious vibe of the track, which is fueled with the lilting "We don't want no problems" hook. The storytelling of the song stirs an overwhelming feeling, which all listeners can relate to. "Wild Ones" delivers the party anthem beats and message that is so hot, even the police can't stop it when they arrive to break up the party! Download "Wild Ones" now by clicking here.
The forthcoming "Wild Ones" music video is produced by Dre Kahmeyer of Fiction Media, and delivers a recognizable take on the rebellious youth of today's America. The message is brought home by the carefree and fun-loving style of JoAnna singing a mesmerizing hook interwoven with the authoritative rhymes of Lucid.
"I've been looking forward to a collab with Lucid for a while now, as another local artist and one of my favorite Wichita rappers; but this was bigger than I expected," said JoAnna Michelle. "I think I had the most fun making this video for 'Wild Ones.' I feel like it is something to keep the kids wild and remind the older crowd it is still okay to get wild too."
JoAnna has ably evolved with the new "Wild Ones" release. This young musical diva's artistic prowess is showcased in her commanding performance of a teen trying to break free of negativity and judgment while challenging authority. JoAnna's journey from breakout "My Snap Story" to last year's Billboard Dance Top-20 hit, "Blaze The Dance Floor," clearly points the way to "Wild Ones" being her biggest hit yet!
Luke "Lucid" Schoenhofer's feature is precise and aggressive with his rich delivery proving he is an undeniable rising rap star. Lucid's career credits already boast primo gigs opening for Flo Rida, Lil Wayne, Nelly, Snoop Dogg, T.I., T-Pain, and Tech N9ne. His collaboration with JoAnna on "Wild Ones" undoubtedly reveals that they are both on their way to superstardom!
With a full dance remix package currently being curated by Jimmy D Robinson, the single will hit clubland, radio and the Internet with a one, two, knockout punch. Early testing of the single has been extremely well-received, and DJs can't wait to get the track into rotation.
"Connecting with the hottest remixers and DJs for 'Wild Ones' is extremely important to me. I want the best beats supporting the new single," expressed JoAnna. "I love being involved with all of the dance communities around the world."
The single's promotion will be led by Billboard Dance chart champion Bobby Shaw. "Wild Ones" will start making its way to DJ booths and radio rotation in February 2020.
ABOUT JOANNA MICHELLE
A native of Wichita, Kansas, she spent the majority of her childhood studying and emulating hundreds of artists of both past and present generations, appreciating and "sponging" everything from southern rock to hip hop, country/western to pop, rock to rap, and everything in between. As early as first grade, JoAnna began piano lessons and has since become a true multi-instrumentalist - proficient at drums, guitar, keyboards, and vocals. While developing her musical abilities, she has also continued to pursue dance studies, focusing on hip hop, ballet, modern, jazz, and tap. After years of studying and emulating others, JoAnna has found her own voice, and made her worldwide debut in 2016 with her break-through single, "My Snap Story." Her second single, "Entourage (I Am My Own)," was released in October of 2016. JoAnna released "Too Sophisticated," which became a Top-25 hit single on the Billboard dance charts in 2017. In 2018, JoAnna released the fiery single "Blaze the Dance Floor," a tribute to a wonderful friend who helped her gain a love for all types of music. "Blaze" fire-balled to #12 on the Billboard Club Play chart.