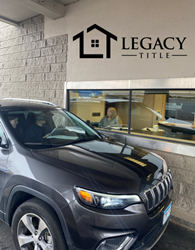 "The drive thru ensures we are adhering to social distancing"
BLAINE, Minn. (PRWEB) March 26, 2020
Legacy Title, a full-service Title Insurance and Real Estate Closing Company announced today it is offering a safe and unconventional way to close real estate transactions during the Corona Virus Outbreak.
On the heels of Governor Tim Walz ordering Minnesotans to stay at home until April 10, except for essential duties, the advent of a drive thru service at Legacy Title's Blaine location at 12301 Central Ave NE, is being met with open arms and even accolades from competitors.
Connie Clancy, President of Legacy Title said the idea came out of necessity.
"We recognized immediately that this situation would cause a shift in the traditional way of doing closings and began implementing changes right away," said Clancy. "We started with separating parties into different closing rooms, offering curbside service and then saw the opportunity to offer the drive-thru option and acted quickly to make it happen for our customers."
Since commencing this innovative service customers have sung its praises. "They are relieved and appreciate the ability to close safely from their car," said Carmen Jorgensen, Executive Closer.
"We began offering Drive-Thru service March 23. We have had several closings in this drive-thru already and have it booked for the next several days," said Carmen. "Its really catching on."
Clancy said that the industry is in the midst of its strongest March ever with the recent drop in interest rates. Clients who are purchasing or re-financing a home depend on the ability to close on a transaction while the rates remain favorable. Many of these pending refinances will allow consumers to potentially save hundreds of dollars per month in mortgage payments which is very valuable-especially now.
"All of our 12 locations have Curbside Closing services available, but this drive thru concept is unique," she said. "We are taking many precautions to ensure we are always keeping a safe distance and using best practices to ensure everyone remains healthy and safe."
Jorgensen, who oversees the drive thru closings says that clients appreciate the drive thru option.
"Some of our clients need to have their children with because school is closed. Doing this in the drive thru ensures we are adhering to the social distancing orders all of us have been given," said Jorgensen. "A few clients told us they were considering canceling their closing for safety reasons until they found out about this convenient option."
While closings are usually very intimate gatherings with all parties present at a table, this new and necessary concept allows for the transaction to be completed without putting clients and Legacy Title employees in harm's way.
"Is this the new normal? Probably not. But it is the right thing to do right now," said Clancy. "Closings are usually celebrations. But even in difficult situations, essential business like this must happen. Whether someone is buying, selling or refinancing we recognize the importance of their investment and want to continue to make this experience as positive as possible for all involved."
Clancy recognizes in this state of change that teamwork and collaboration are critical. "I am so grateful to work with such a wonderful group of people at Legacy Title and within an industry that really supports working together to put the consumer first and do what's best and safest for them."
Attention Assignment Editors, Show Producers and Reporters:
All of the newsmakers in this press release are available for interviews. Any photographer assigned to shoot digital photos or video of this drive thru title closing window will be accommodated during regular business hours. To help make coordinating coverage easy and hassle-free contact publicist Robb Leer at 612.701.0608.
About Legacy Title:
Legacy Title is a full-service Title Insurance and Real Estate Closing Company. We are locally owned, independent and motivated by exceptional customer service, efficiency, innovative technology, entrepreneurial spirit and a commitment to excellence above all others. We serve Realtors, lenders, builders home buyers and sellers throughout Minnesota and Western Wisconsin. For more information, please visit https://legacy-title.com/.