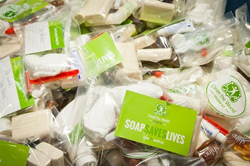 "As the number of COVID-19 cases continues to climb, Clean the World Foundation is committed to responding with hygiene supplies in the days and weeks ahead. We are extremely thankful to Twincraft for their generous support."
ORLANDO, Fla. (PRWEB) March 26, 2020
Clean the World Foundation, a leader in global health dedicated to water, sanitation, and hygiene (WASH) and global sustainability, announces a new partnership with Twincraft Skincare, one of the leading custom contract manufacturers in the natural bar soap and liquid skincare space. Twincraft Skincare and Clean the World together have already made an astounding impact in the soap recycling space, distributing over 2.3 million bars of recycled soap around the world and providing approximately 280,000 bars of soap for inclusion in hygiene kits that are distributed to those in need in the US. Together, they have also prevented 449,878 pounds of waste from polluting landfills across the globe.
"Both the CDC and World Health Organization have adamantly expressed, handwashing with soap and water as one of the most important ways of staying healthy," says Sam Stephens, executive director of Clean the World Foundation. "As the number of COVID-19 cases continues to climb, Clean the World Foundation is committed to responding with hygiene supplies in the days and weeks ahead. We are extremely thankful to Twincraft for their generous support."
Clean the World has already processed almost 1.5 million bars of soap to be delivered across North America in response to COVID-19. Shipments went out this week to New York, Washington state, Louisiana, Missouri, and Florida. Through its efforts and vital partnerships with companies like Twincraft Skincare, Clean the World has enough soap to continue its relief efforts until the crisis is resolved.
"The bottom line is that soap saves lives. We are profoundly blessed to be in this business right now and will continue to do our part to keep up with the high demand, during this crisis. Our goal through this crisis is to get the soap to those Americans in need right now. We cherish our partnership with Clean the World and know that our donations are getting directly to the people who need them most," Peter Asch, CEO, Twincraft Skincare.
For more information on how you can support Clean the World Foundation's relief efforts, please email info@cleantheworld.org or visit https://www.cleantheworldfoundation.org.
About Clean the World
Clean the World Foundation is an international development and global health nonprofit operating hygiene-focused emergency relief initiatives, and WASH (water, sanitation, and hygiene) education programs, targeting vulnerable communities in the United States and around the world. Clean the World Foundation is the 501(c)(3) non-profit sector of Clean the World's social enterprise responsible for all soap and hygiene kit distribution both domestically and globally as part of many of its comprehensive WASH programs. Clean the World Foundation engages volunteers, donors, and other outcome-focused organizations around the world to provide hygiene supplies and education curriculum to support its global health programs. Since 2009, Clean the World Foundation has served over 10 million individuals through its global WASH programs. A copy of the official registration and financial information for Clean the World Foundation may be obtained from the Division of Consumer Services by visiting https://www.fdacs.gov/ConsumerServices. For more information, visit us online: https://www.cleantheworldfoundation.org.
About Twincraft Skincare
Twincraft Skincare is a Vermont-based custom contract manufacturer of premium liquid and bar soap skincare, with facilities in both Winooski, Vermont, and Essex, Vermont. Founded in 1972, Twincraft produces products for more than 140 national and international personal care brands. In all they do, Twincraft strives to lead with a head for business, a heart for people, and a passion for bringing the two together. To learn more, visit http://www.twincraft.com.
CONTACT:
Sandie Beauchamp
Clean the World
info@cleantheworld.org
407-574-8353
Michele Asch
Twincraft Skincare
Michele.Asch@Twincraft.com
802-598-7133