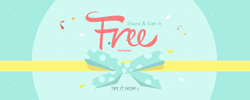 Customers can now get free products by simply sharing links with friends
Shenzhen, China (PRWEB) September 15, 2016
The 2016 fashion scene has all cute outfits accompanied by the latest accessories. More and more people are realizing that accessories and jewelry add a new dimension of fashion and they are flocking to own their own. Twinkledeals has become one of the most popular websites on the internet because it offers the latest fashion accessories at the lowest prices. Customers do not have to break their wallets when shopping at Twinkledeals and today the company is making it even easier to get products by offering a "get it free program". The new get it at no cost program will give customers the opportunity to land free products by simply sharing them with their friends and family.
Twinkledeals is always looking for ways to introduce itself to new customers, today the site is leveraging their old customers through a new sharer reward program. This program is very straight forward and allows old customers to get products that might be out of their budget at no cost.
Customers simply need to head over to Twinkledeals and shop as they normally would. If a customer sees a product they want but are unable to pay for it they can take advantage of the "get it free program". On the product page there will be a "Share & Get It Free" button. By clicking this customers will able to choose how they share the product. Products can be shared through direct link, social media (Facebook, Google+, Twitter, Pinterest, etc), or via email.
The original sharer will be rewarded under the following conditions; the new customer must start a new account under and order the product. The product must be held until after the return date to avoid any cheating. If an account with the same IP is used then Twinkledeals can disqualify the customer from the "Get it Free" program. The Twinkledeals website will self-check every order to make sure it is valid and customers who pass will be rewarded with a cash coupon.
New customers who sign up from a sharer link will also be rewarded. Anyone who signs up via the sharer link and is a valid user will be given a $50 coupon at Twinkledeals. This is a win-win for everyone involved.
Twinkledeals cares about customer satisfaction and is now taking input on the sharer reward program, customers can voice concerns and opinions at the Twinkledeals Facebook page. Any suggestion taken and used will give the commenter a $20 coupon.
Twinkledeals is the sister company of DressLily and Nastydress. If you would like to know more about fashion, you may also visit those 2 sites.
Related link: http://www.twinkledeals.com/
Email: support(at)twinkledeals(dot)com