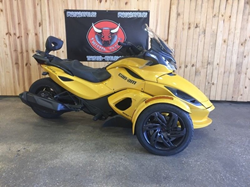 DALLAS (PRWEB) November 30, 2020
The Can-Am brand is well-known for its off-road products as well as on-road three-wheel vehicles. Those looking to purchase a pre-owned Can-Am model can find select options now at Twisted Cycles. Located at their Dallas location, the dealership now has a 2013 Can-Am Spyder as well as a 2018 Can-Am Outlander available.
For those interested in an on-road vehicle, Twisted Cycles has a bright yellow 2013 Can-Am Spyder ST Limited for purchase. In their inventory since mid-October, the model has approximately 17,240 miles on it. The model does have a Stock and VIN number but is not dealer certified. It has a liquid-cooled Rotax V-twin engine that offers 100 horsepower and 80 ft-lbs of torque. It offers a Roadster electronic command center with Bluetooth® and navigation capabilities.
A pre-owned 2018 Can-Am Outlander XT 1000R utility ATV is also available at Twisted Cycles. Black in color, the model offers a 976cc engine that works best as an off-road utility vehicle. At the Dallas location since late August, the model has only 5,556 miles on it. It is not dealer certified but has its VIN number. 2018 Can-Am Outlander XT models typically have a liquid-cooled V-Twin Rotax V-twin engine. These engines output a maximum of 89 horsepower.
Those interested in either the 2013 Can-Am Spyder or 2018 Can-Am Outlander can contact Twisted Cycles directly for pricing. An associate at the dealership can be contacted over the phone at 806 687-7300 for questions or concerns, as well as online at https://www.twisted-cycles.com/. Their Dallas location can be located in-person at 2401 S Loop 289.