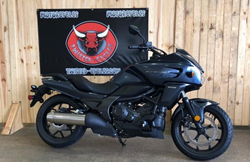 DALLAS (PRWEB) June 23, 2020
After adding to their inventory, Twisted Cycles now has select pre-owned motorcycles with less than 600 miles of use available in their inventory. These options include two Triumph Bonneville motorcycles, a 2016 Honda Touring model as well as an off-road 2018 Honda XR650L. Each model has its Stock and VIN numbers attached while two models have a dealer discount also attached to them.
Twisted Cycles has two Triumph Bonneville motorcycles available at each of their locations. The most recent model is a silver 2018 Triumph Bonneville Bobber. It has 201 miles on it and is priced at $11,995 after a $500 dealer discount. The model can be found in the dealership's Lubbock location. The later model is a silver 2014 Triumph Bonneville. It has an 865-CC engine and has only been driven for 63 miles. It is found at Twisted Cycles' Dallas location.
Meanwhile, Twisted Cycles has a 2016 Honda Touring CTX700G motorcycle available. Blue in color, the vehicle has just 261 miles on it. It is equipped with a two-cylinder 670 Parallel Twin engine. Located in the Lubbock, TX location, the motorcycle is currently priced at $7,995.
Lastly, the dealership has a 2018 Honda XR650L model for sale at their Dallas location. The vehicle is a dual-sport model and can reach up to 40 horsepower and 47.2 foot-pounds of torque with its electric-start engine. It is currently on sale after a dealer discount of $1,500 and is priced at $6,495. Those with approved credit can pay just $19 down to start an offer on the model, which has 587 miles on it.
Customers interested in any model listed above are invited to contact Twisted Cycles directly. Those interested can head to either dealership location. Their Dallas area location is at 7700 S Interstate 35 E in Corinth. For their Lubbock location, they can be found at 2401 S Loop 289. Otherwise, they may be contacted by phone at 833-912-0272 or online at https://www.twisted-cycles.com/.