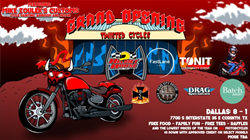 DALLAS (PRWEB) June 30, 2020
Those in the Dallas and Lubbock areas looking for something to do in the Dallas area in early August can stop by Twisted Cycles' Official Grand Opening of their second store. It will be hosted by Twisted Cycles but is supported by numerous local businesses in the Dallas area. The event will have free food, family fun and specials on motorcycles in their stock.
The Grand Opening Event will be taking place on Saturday, August 1. It will last from 2:00 pm until 7:00 pm at their store location in North Dallas at 7700 S Interstate 35 E. During the event, Twisted Cycles will be giving away free merchandise and food and are offering various prizes to win. Other vendors will also be in attendance.
Beyond the event, Twisted Cycles will also be holding various sales events before and during the celebration. This includes $0 down financing with approved credit on a selection of motorcycles in their inventory, as well as various other special offers from their inventory. The dealership has primarily Harley Davidson motorcycles but also carries many other major brands such as Honda, Kawasaki, Yamaha and others. The selection also includes motorcycles with low gas mileage as well as various engine types.
Those interested in going to the Twisted Cycles' Grand Opening event are welcome to follow their Facebook Event page for more information. Customers are also welcome to contact employees at 833-912-0272 or visit their Lubbock location at 2401 S Loop 289 for any questions or concerns. The dealership can also be reached online at their website at https://www.twisted-cycles.com/.