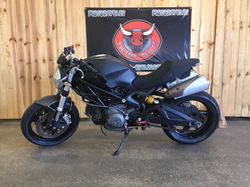 DALLAS (PRWEB) December 31, 2020
While the Harley Davidson brand of motorcycles is most popular among the Twisted Cycles lineup, the dealership accepts trades and purchases of many different brands. Of the available motorcycles, the dealership currently has three motorcycle brands uncommon to its usual inventory currently available. The motorcycles available include a 2015 BMW R1200GS, a 2014 Ducati Monster 696 and a 2014 Indian Chief Vintage model.
The most recent model available among the unique pre-owned motorcycles is a 2015 BMW 1200GS. Classified as an enduro motorcycle, the model has a black exterior and two hard-shell MOA cargo boxes. It has been driven for 20,426 miles and offers a four-stroke flat-twin engine. Customers can find the motorcycle at the Dallas location. They can be reached for inquiries at 214-937-5959.
A second unique motorcycle at Twisted Cycles in Dallas is the 2014 Ducati Monster 696. The model offers the well-known air-cooled L-twin engine as its powertrain. Meanwhile, the model has a matte black exterior and has been driven for 25,198 miles.
Of the three, the pre-owned 2014 Indian Chief Vintage is the only model currently found at Twisted Cycles' Lubbock location. With a black exterior color, the motorcycle has a V-2 four-stroke engine and an air-cooling system. It has been at the dealership since Nov. 2 and has tan saddlebags and seat cover. The motorcycle has been driven for 22,932 miles. For inquiries, customers are welcomed to call the Lubbock location at 806-687-7300.
With the above-mentioned pre-owned motorcycles available at Twisted Cycles, customers can stop into either location for questions or inquiries. The Dallas location can be found at 7700 S interstate 35 E in Corinth. Meanwhile, the Lubbock dealership is located at 2401 S Loop 289. Otherwise, customers are encouraged to find all three models at the dealership inventory page online at https://www.twisted-cycles.com for more information.