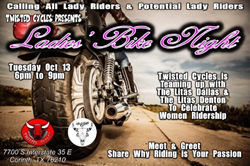 DALLAS (PRWEB) September 30, 2020
With a large community of motorcycle riders in the Dallas and Lubbock areas, Twisted Cycles makes a point to connect its community beyond buying and selling pre-owned vehicles. To help connect those in the area, the dealership is hosting its first-ever Ladies Bike Night on Tuesday, October 13 from 6 p.m. to 9 p.m.
To participate in Ladies Bike Night, those interested can meet at Twisted Cycles' North Dallas location at 6 p.m. It can be found at 7700 S Interstate 35 E in Corinth, TX. The dealership is hosting an evening that will include a ride in the Dallas-Fort Worth and surrounding area. The opportunity will be a way for women motorcycle riders to meet, share or plan rides, discuss motorcycles and celebrate women ridership in the area. All are welcome to attend the event regardless of motorcycle experience or ownership. Food, beverage and music will also be provided by Twisted Cycles.
For the event, Twisted Cycles has partnered with both The Litas Dallas and The Litas Denton. Both partners are community groups of women from the Denton and Dallas areas who share a love for motorcycles. Originally established in 2015, the groups inspire, empower and support women through their shared hobbies. Open to members, the groups plan riding events and meet and greets in their respective communities.
Those interested in the first-ever Ladies Bike Night by Twisted Cycles, The Litas Dallas and The Litas Denton are welcomed to visit and respond on the Facebook events page. The dealership is also open to any questions or concerns about the event. An associate can be available by phone at 806-687-7300 or online at https://www.twisted-cycles.com/.