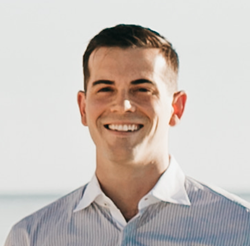 BONITA SRINGS, Fla. (PRWEB) November 12, 2019
Aaron joins TWO39 Group with over ten years of experience in business growth and fundraising within technology and real estate.
While enrolled at UMass Lowell's Manning School of Business, he built and scaled a real estate investment and development firm, raising $4M+ and providing strong returns to investors. Having a passion for technology, he spent about two years at Gartner before leaving for the SaaS giant, Salesforce. He has led consulting for channels of $100M+ ARR. Most recently he led Business Value Services, a consulting arm, for Salesforce's Commerce Cloud.
"I am thrilled to join TWO39 Group, and more specifically, work closely with other entrepreneurs and leaders to help them accomplish their goals. We have a great team in place with a lot of experience executing toward success. With their most recent exit, Samelson and Allen's commitment to their customers is clear. We aim to continue driving these principles across our portfolio companies and other local opportunities in SWFL."
TWO39 Group is an investment, advisory and consulting company in Southwest, FL aiming to provide economic development to the local community and strong returns to investors.