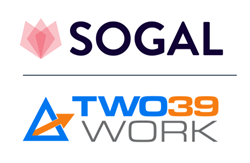 BONITA SPRINGS, Fla. (PRWEB) January 16, 2020
TWO39WORK, Southwest Florida's hub for technology and innovation, partners with SoGal Foundation, a non-profit on a mission to close the diversity gap in entrepreneurship, to host the Southwest, FL regional round of the largest global startup competition for women and diverse entrepreneurs. The international pitch competition consists of 25+ regional rounds in SoGal chapters in cities across five continents, including New York, San Francisco, Austin, Chicago, London, Berlin, Shanghai, Singapore, Tokyo, Sydney, Nairobi, Johannesburg, and others. The finalists from each regional round will travel to San Francisco to attend SoGal's 3-day immersive educational bootcamp for guaranteed facetime in front of top-tier Silicon Valley investors, as well as participate in curated educational programming, unparalleled 1:1 mentorship, press exposure, and compete on the global level to win investment capital.
Aaron Stafford, Partner of TWO39 Group, believes the location of this regional round has a unique value. "When looking at Southwest Florida as a region, it has a high concentration of angel investors and family offices. In fact, Naples leads the country in income per capita. We realize this is a very unique place. There are a lot of innovators out there with amazing opportunities that need funding. What better way to ensure these underrepresented entrepreneurs are heard than to partner with SoGal and leverage the amazing platform they have been able to build in the SoGal Global Pitch Contest -- plus host it in a dense population of investors? There are so many underrepresented founders out there that aren't getting the attention they deserve. We strongly believe in the vision of SoGal and are excited to extend their value and amazing platform to the community in Southwest Florida."
SoGal Foundation supports diverse founders and funders from underrepresented backgrounds by providing educational resources and connections to SoGal's global community in 40+ international chapters. SoGal's Southwest, FL chapter is being held in Bonita Springs at TWO39 WORK, the technology hub of Southwest, FL. The majority of the startups competing are Florida based with the exception of Alabama, Massachusetts, Georgia and New York. The panel of judges will consist of venture capitalists and angel investors that have experienced exits with their own companies. SoGal's global startup competition will defy geographic boundaries, creating a "bridge" between chapters in order to connect women, minority, LGBTQIA+, and other underrepresented founders to investors who care about diversity and inclusion within their portfolios.
SoGal's previous final round of the global startup competition had a packed lineup of venture capitalist judges with several investments made on the spot in San Francisco. The second annual competition and summit will have an even greater impact, with more than double the number of regional pitch rounds as well as $600K+ investment dollars allocated to winning teams at the global level. Furthermore, SoGal has expanded the scope of the startup competition to include not only women, but other minority and underrepresented founders in an effort to bridge the diversity gap.
"SoGal was born out of the need to put millennial and generation Z women front and center in entrepreneurship and VC globally," said Pocket Sun, Founder and Co-President of SoGal Foundation. "Women and other underrepresented founders are underestimated and undercapitalized, yet when provided with resources, network, and capital, female founders are statistically proven to outperform their male counterparts. There's been enough data, research, and education but too few actions and capital allocation. We just need to allocate capital to women and the rest will sort itself out."
Women received just 2.2% of venture capital funding in 2018 and less than .1% of funding has been allocated to black women since 2009. Additionally, only about 1% of venture-backed companies have a black founder or Latinx founder (male or female). This gender and diversity inequality hinders significant economic growth, since 85% of consumer purchases are made by women, and startups with higher ethnic diversity tend to produce financial returns above their industry norm.
"Startups are enhanced by a diverse brain trust working toward a common vision," says pitch competition partner, Tim Draper. "While I never explicitly force diversity in my companies, the best ones naturally include the best people for the job, and those best people come from everywhere."
SoGal Foundation is built on the data-backed belief that prioritizing diversity in entrepreneurship is far more than an issue of morality - it's an essential business strategy that benefits everyone. SoGal Foundation's global startup competition represents the first and largest opportunity for women and diverse entrepreneurs and investors to connect worldwide.
ABOUT
TWO39WORK, a shared workspace and community for innovators and entrepreneurs, is the technology hub of Southwest Florida.
SoGal Foundation is the largest global platform for diverse entrepreneurs and investors with 40 chapters and 100,000+ members across 5 continents around the world. SoGal's 501(c)(3) non-profit mission is to close the diversity gap in entrepreneurship and investing.
STARTUPS PITCHING
Tennibot - Auburn, AL
IvyLender - Atlanta, GA
invisaWear - Lowell, MA
Propzie - Miami, FL
Soulments - Jacksonville, FL
SoleVenture - St. Petersburg, FL
Parallel Profile - Boca Raton, FL
DocCharge - Naples, FL
Soluria - Naples, FL