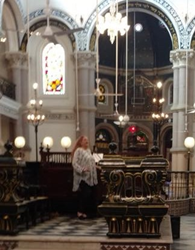 Of her trip Rabbi Ginsburgh notes, "One of the highlights of the trip was being asked to lead part of the Shacharit Service at Magen David-an 133 year old synagogue in Kolkata."
NEW YORK (PRWEB) March 12, 2019
This spring two alumni will join members of the Jewish Spiritual Leaders' Institute 17th class in making a Lunch and Learn presentation. Rabbi Judy Ginsburgh of Louisiana will speak online about her "Jewish Heritage Tour of India." Ginsburgh, ordained by JSLI in January 2014, is best known for her music and is an accomplished Cantor as well as a Rabbi. Read more about her here. Rabbi Jonathan Cohen, who hails from Florida, will speak to the topic, "If the Bible is Fake News." Rabbi Cohen was ordained as part of the 14th class of Jewish Spiritual Leaders Institute.
The curriculum of Jewish Spiritual Leaders' Institute requires students to present a one hour Lunch and Learn to the school. They pick topics that they have an expertise in and present them through a Jewish lens. Some topics over the years have included: Accounting for the Clergy; sessions on Jewish Communities around the World; Gossip; Ethics of the Fathers, and Kosher Butchers. Rabbi Steve Blane believes in preparing clergy in a pragmatic and professional way. Each student needs to create a Powerpoint or Keynote and provides the presentation online.
ABOUT JSLI and Rabbi Blane
Rabbi Blane is the founder and director of the Jewish Spiritual Leader's Institute,
http://www.jsli.net, the online professional rabbinical program and of Union of Jewish Universalists Communities an association of Rabbis who support Jewish Universalism.
Sim Shalom is an interactive online Jewish Universalist synagogue which is liberal in thought and traditional in liturgy and was founded in 2010 in New York by Rabbi Steve Blane. Rabbi Blane leads accessible and short Shabbat services every Friday night using a virtual interface and additionally Sim Shalom provides online education programs, Jazz concerts, conversion and life-cycle ceremonies along with weeknight services at 7:00PM EST led by Rabbis and students of this online community.
Sim Shalom, a non profit 501 © (3) tax-exempt organization, nurtures a Jewish connection through its mission of innovative services, creative education and dynamic outreach to the global community. For more information visit http://www.simshalom.com or call 201-338-0165.