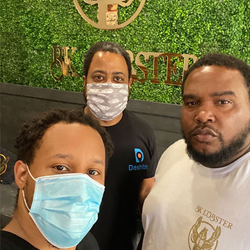 Technology can be a powerful tool to help black-owned restaurants cope with the challenges of the pandemic.
NEW YORK (PRWEB) August 18, 2020
Dashible has entered into a partnership with EatOkra, which offers a location-based mobile application that helps customers easily find local black-owned restaurants throughout the United States.
Dashible's new application programming interface (API) will allow EatOkra's restaurants to create and display Dashible deals on the Dashible platform while simultaneously making them available within the EatOkra application. "When done correctly, technology can be a powerful tool for sales and marketing. The Dashible API will enable us to work with EatOkra and other third-party platforms to extend our services in ways that would be more difficult to accomplish on our own," said Dashible's Co-Founder, Tony Carter.
To further support this endeavor, Dashible is also adding functionality to its platform that will enable the redemption of Dashible deals via third-party applications, with the EatOkra application being the first. Dashible's unique delivery of a mobile app that effectively serves both merchants promoting local deals and customers looking for great deals in their area has been extremely popular since its launch in New York this year with businesses continuing to sign up during the Covid-19 pandemic. The EatOkra partnership and the new features Dashible is now adding means that even more customers - in New York for now, but soon around the country - will be able to benefit and save money with Dashible deals.
With a network that covers 3,000 restaurants across the United States, the EatOkra partnership offers Dashible a path to nationwide expansion while enabling EatOkra customers to redeem Dashible deals at participating black-owned restaurants.
Additionally, the partnership will bring together three black startup founders who are also veterans of the U.S. Armed Services: EatOkra's CEO Anthony Edwards (U.S. Army) and Dashible cofounders Marvin Johnson (U.S. Navy) and Tony Carter (U.S Air Force).
About Dashible, Inc.: Dashible is a software as a service (SAAS) platform created to bring value to both merchants and consumers by bringing them together, using a unique approach that gives business 100% control over deal campaigns while enabling consumers to easily find local deals and redeem them without any prepayment or waiting. Dashible currently operates in the New York City area.