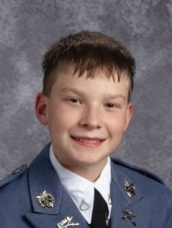 FORK UNION, Va. (PRWEB) November 20, 2020
Two cadets from Fork Union Military Academy were named the top prize winners in the local Patriot's Pen essay contest sponsored by Post 8169 of the Veterans of Foreign Wars (VFW).
Each year, the Veterans of Foreign Wars organization sponsors the Patriot's Pen essay competition for students in grades six through eight. More than 150,000 students across the nation from public schools, private schools, and home schools participate, hoping to win a portion of more than $1.4 million in local, state, and national awards. This year's Patriot's Pen contest asks students to write a 400-word essay on the topic "What is Patriotism to Me?" In the Fluvanna County and Scottsville areas served by VFW Post 8169, approximately 100 students submitted essays to be judged ty the local Post 8169 and VFW Auxiliary members.
Cadet Jackson Fields, an 8th grader, was named the First Place award winner. Cadet Fields is the son of Donald and Kristin Fields of Palmyra, Virginia.
Cadet Maxwell Boyd, an 8th grader, earned the Second Place award. Cadet Boyd is the son of Mark and Gloria Boyd of Fork Union, Virginia.