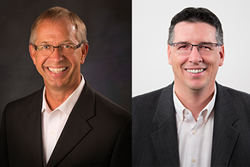 As we've been talking about our strengths and our weaknesses in our own, individual businesses, we realized that we could combine our efforts and grow this business together ... Our skills are complementary and it makes perfect sense to work together. - Stan Krempges
SPRINGFIELD, MISSOURI (PRWEB) October 11, 2018
As a Growth Coach, Stan Krempges is always telling his clients to focus on their strengths and find ways to bring on trusted team members to strengthen their weaknesses, so when he met Tim Bartholomew at a local networking meeting, a light bulb went off. Bartholomew was also a business coach, but rather than see him as competition, Krempges realized they could work together to serve more clients in a better way. Now Krempges and Bartholomew are pleased to announce they will be working side by side as The Growth Coach of Springfield MO.
The Growth Coach is the largest provider of affordable group coaching workshops in the nation, but coaches also offer group and one-on-one coaching for sales professionals, managers, management teams, self-employed professionals and more with a wide variety of programs through three industry-leading series – their Foundational Series, Fundamental Series and Fast Forward Series. The Growth Coach also recently announced their GC Insights program, which uses behavioral analysis to unlock human potential to build high-performance teams and stronger leaders.
"I met Tim near the end of 2017 and we've been in touch ever since. As we've been talking about our strengths and our weaknesses in our own, individual businesses, we realized that we could combine our efforts and grow this business together and that it would be a benefit for both of us and for our community. Our skills are complementary and it makes perfect sense to work together – I'm looking forward to what we'll be able to accomplish together," Krempges said.
Bartholomew went to Pittsburg State and, after college, found that he had a passion for building houses. Helping people realize their dreams in a custom home was great, but when the economy crashed, he moved into commercial construction. For the next 10 years, Bartholomew found himself in various management and leadership positions, focusing more on building high-performance teams than on building buildings. He left that job in 2017 to start his own coaching business. Since that time, he has helped many local small and medium sized businesses to focus on what's important and to work on their business instead of in their business. With that experience and a desire to help the local business community even more, he saw an opportunity with The Growth Coach.
"I was starting from scratch and designing every tool, procedure and program as the need arose which posed a lot of challenges. As I was talking to Stan, I realized we'd be a great team and that The Growth Coach's programs were perfectly suited to the kind of coaching I wanted to do. Our individual experiences and strengths make The Growth Coach of Springfield MO a perfect partnership for us and for this community. I'm looking forward to being a Growth Coach and to growing this business with Stan as my counterpart," Bartholomew said. Tim is an active member of the Ozark Chamber of Commerce and SCORE Southwest, MO.
Prior to The Growth Coach, Krempges owned his own business for 20 years and, during that time, he franchised the company to 22 locations in 12 states. After selling the business and staying on as vice president, he helped continue the expansion to 34 locations in 18 states. Krempges himself is also a three-time franchisee and was nominated twice for small business of the year. He's a member of the International Franchise Association, the Rotary Club of Springfield Southeast and the Springfield Chamber of Commerce. He's also a past member of the Springfield Executive Breakfast Club.
"Throughout my career, I've gained a wealth of knowledge of the ins and outs, challenges and victories businesses face. I finally found my niche as a Growth Coach and I'm looking forward to working more closely with Tim to serve our community in a new and exciting way," Krempges said.
As Growth Coaches, both Krempges and Bartholomew are certified in The Strategic Mindset coaching process, which adheres to the standards, practices and policies that the International Coaching Federation has set forth in their Code of Professional Standards and Ethics. The Growth Coach's mission is to help business leaders build more successful businesses and more balanced lives through coaching, support and accountability. The Growth Coach of Springfield MO has been serving Springfield, Nixa, Ozark, Branson, Republic and the surrounding area since Krempges opened the franchise back in August of 2017 and that service area has not changed.
The Growth Coach, founded in Cincinnati, Ohio, sold its first franchise in 2003, but its leaders have a successful 20-year track record of helping business leaders find success and balance. Today the business and sales coaching franchise is in more than 100 markets worldwide. The Growth Coach was included in Bond's "Top 100 Franchises" and recognized in Entrepreneur Magazine's "Franchise 500" and "Best of the Best," in USA Today and has been featured on FOX, CBS and NBC. The company's landmark Strategic Mindset Process is so effective that it comes with a money-back guarantee.
To reach Stan Krempges, call (417)343-0200 or email SKrempges@TheGrowthCoach.com. To reach Tim Bartholomew, call (417)880-5456 or email TBartholomew@TheGrowthCoach.com. For more information about The Growth Coach of Springfield MO, visit http://www.TheGrowthCoachSpringfieldMO.com.
ABOUT THE GROWTH COACH
The Growth Coach was founded in Cincinnati in 2003 and is the only pure business and sales coaching franchise aimed at driving success while balancing the lives of business owners, managers, sales people, self-employed professionals and executives across a wide spectrum of businesses and industries. The Growth Coach specializes in group workshops and individual coaching with the goal of helping clients gain greater focus and leverage to work less, earn more and enjoy more fulfilling lives. The Growth Coach is active in more than 100 markets in the United States and abroad and is always looking to expand domestically and internationally. For more information visit http://www.TheGrowthCoach.com.