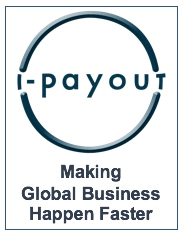 FORT LAUDERDALE, Fla. (PRWEB) January 13, 2021
i-payout is the world's leading provider of customized SaaS software for global disbursements and related, payment management solutions. In pursuit of one of its missions – the delivery of highly effective and individualized Compliance and Client Support services – the Company has added two accomplished professionals to its managerial staff that oversee the Operations and Compliance departments.
"I am pleased to announce that the capabilities of our Operations department and Compliance department have been significantly enhanced with the addition of exceptional, new leadership," said Eddie Gonzalez, i-payout's President and C.E.O. "Dailenys Garcia takes the reins in Operations as department V.P. and Yizrel Melendez is now heading-up our Compliance department in her managerial role. Both women have accomplished a great deal as they progressed in their careers to these new positions of responsibility."
Dailenys Garcia: Vice President – Operations. Ms. Garcia, a 5-year veteran at i-payout, has moved up through the company and with each move she effectively managed increased responsibilities. Most recently Dailenys served as Customer Support Manager where she guided our 24/7 Customer Support Center. Customer Support Representatives provide assistance to the users of i-payout global payments system. A great many of those system users are located around the world. And because of that the Company's Customer Service Reps provide that support in the native languages of 60 different countries. One of Dailenys' accomplishments was the establishment of challenging Key Performance Indicators that focus on shortening the already rapid time-to-resolution of help requests. Dailenys effectively managed processes and staff to ensure that those KPIs were met and exceeded.
Dailenys' versatility will serve her well as she guides the multi-faceted responsibilities of the Operations department. As a result of leading the Customer Service department, she fully understands what it takes to fulfill our customers' needs. Going forward, she will help shape the work flows in Operations to further elevate our ability to meet the needs of our clients and work effectively with external partners. She guides a team of Client Support Specialists in the Operations department who are personally assigned to individual clients. They, proactively, reach out to their assigned clients to help them get the maximum benefits from our software.
Yizrel Melendez: Department Manager – Compliance. Ms. Melendez comes to i-payout after serving with distinction at Citi Bank for just under 4 years. Prior to that she worked in the Compliance department at Bank of America for 7 years during her 10 year tenure with them. As a Lead Analyst at Citi, Yizrel focused on high-risk international clients and jurisdictions - ensuring that all profiles where complying with Bank Secrecy Act, U.S., Patriot Act, KYC and Anti-Money-Laundering laws in the United States. Yizrel developed training materials at Citi for the AML Compliance unit to ensure that evaluations and investigations were carried using the appropriate, mandated procedures and documentations as required by jurisdictions around the world.
About i-payout
i-payout is the world's leading financial software company providing a custom platform that facilities global payments. It serves multi-national clients in over 180 countries. System users have over 40 ways to make payments, worldwide. In addition to payment disbursal and related payment management services, the Company's suite of solutions covers regulatory compliance, fraud/data security, escheatment services as well as the identification of year-end taxes due, as required by country and regional jurisdictions.
With its headquarters in Fort Lauderdale, Florida i-payout, now in its 15th year of operation, is recognized for its highly adaptable software platform. It enables the Company to fully customize payment solutions to the specific needs of each client and shape its processes to solve problems unique to each client. i-payout supports a diverse group of verticals including gig networks, insurance companies, eSports, royalties, marketplaces, clinical trials, direct sellers, and more.
The Company was founded in 2007 by Edwin Gonzalez, President & C.E.O. Mr. Gonzalez has held leadership roles within the financial software industry for over 20 years. At i-payout, he collaborates with a highly accomplished group of fintech professionals. Many of which have decades of experience in the fintech space.
For further information visit http://i-payout.com
For inquiries write to media@i-payout.com or call (866) 218-4668 Ext 8013