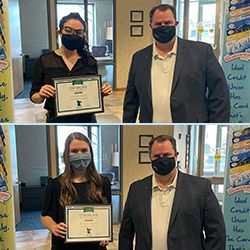 "I would like to congratulate Sophia and Megan on their scholarship win," said Ideal CU President/CEO Brian Sherrick. "Ideal prides itself on being a resource for financial preparedness and to see our members planning for the future at such a young age is very inspiring."
WOODBURY, Minn. (PRWEB) April 09, 2021
Ideal Credit Union is proud to announce that Ideal CU members Sophia Ariola, of St. Paul, MN and Megan Drayna, of Woodbury, MN have each been awarded a $1,000 Scholarship from the Minnesota Credit Union Foundation Scholarship Council (FSC). A total of $16,000 was awarded to 16 credit union members in Minnesota for the 2020-2021 school year.
Scholarships were given away to students in two categories: Traditional and Non-Traditional. Ideal Credit Union has been a long-time supporter of the FSC Scholarship program.
Nearly 1,000 students from credit unions throughout the state applied for scholarships. Applicants were selected based on their essays submitted to the FSC. This year's essay question was: "Knowing that we have the power today to change the story of tomorrow, how will you prepare for future financial obstacles?"
In her essay Ariola reflected on early financial accomplishments such as the purchase of a new iPod with her own hard-earned money and the freedoms afforded by her first job once she turned 16. She wrote, "With my deliberate application of those lessons over the years, I am proud of my anticipated debt-free college graduation at the conclusion of the spring 2021 semester. I have a paid-off vehicle, savings for retirement, a safety net for emergencies, and few concerns about my financial situation all in thanks to the pride that was felt in those early days of earning, and the freedom sourced from my savings from working as a waitress all these years."
In Drayna's essay, she wrote, "My parents' money management practices and preparedness for financial situations have allowed me to take measures that will assist me in current and future financial endeavors. Specifically, I have learned to live within my means and to save money until I can fulfill a purchase or until I need to use it for a necessity." With the future in mind, she added, "If I continue to apply the good practices of saving, creating specific funds, and focusing on necessities, I will be well-prepared for any obstacle that may come my way."
"I would like to congratulate Sophia and Megan on their scholarship win," said Ideal CU President/CEO Brian Sherrick. "Ideal prides itself on being a resource for financial preparedness and to see our members planning for the future at such a young age is very inspiring."
Founded in 1926, Ideal Credit Union is a member owned financial institution that is dedicated to providing financial services driven by a sincere and personal interest in the needs of our employees, members and community. Ideal CU offers a complete range of services, including a full suite of digital banking products, savings, checking, loans, mortgage products, business services and more. Offices are located in Eagan, Hugo, Inver Grove Heights, North St. Paul, Stillwater and Woodbury. Visit idealcu.com for details and directions. Ideal has been voted "Best Credit Union in the East Metro" four years in a row by readers of the Stillwater Gazette, "Best Credit Union in the Forest Lake Area" by readers of the Forest Lake Times, and was named a 2020 Star Tribune Top Workplace. Equal Housing Lender.