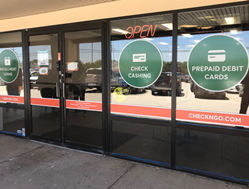 "We invite our neighbors to drop in, enjoy some free refreshments, and let us show our appreciation for their continued business!"
GARY, Ind. (PRWEB) April 24, 2019
Two Check `n Go stores in northwest Indiana will host free customer appreciation events on April 26. The events will take place at the stores located at 3604 Grant Street in Gary, Ind., and 320 Ridge Road in Munster, Ind. Both events open to the public at 10 a.m., and will include free refreshments, as well as a drawing for attendees to win two $50 gift cards.
"We're happy to be a part of the Gary and Munster communities," said Check `n Go District Director of Operation, Pete Garcia. "We invite our neighbors to drop in, enjoy some free refreshments, and let us show our appreciation for their continued business!"
The Gary and Munster Check `n Go locations are part of the new second generation design model. This model features a larger reception area, a bright and inviting color palette, and comfortable seating. The updated design also includes large windows to allow maximum natural light and ambiance.
For more information, visit the Check `n Go company website at http://www.checkngo.com.