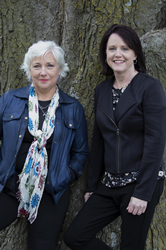 We are both very passionate about helping business owners ... (and) We are looking forward to working with business leaders in our community to help them grow stronger companies, build lasting systems and find the work/life balance we all need. - Roberta O'Keith
KANSAS CITY, Mo. (PRWEB) November 03, 2020
Roberta O'Keith and Cathy Busch are pleased to announce that they are combining their leadership and business skills to bring first-class leadership development and coaching services to the Kansas City region through their new business – The Growth Coach of Greater Kansas City.
The Growth Coach is the largest provider of affordable group coaching workshops in the nation. They also offer leadership training and one-on-one coaching for sales professionals, managers, management teams, self-employed professionals and more. Their approach follows three industry-leading series – their Foundational Series, Fundamental Series and Fast Forward Series. The Growth Coach of Greater Kansas City serves Kansas City, Westport, Merriam, Mission Hills, Prairie Village and the surrounding areas in both the Kansas and Missouri sides of the line.
"We have some amazing companies and business owners in our area, but as an entrepreneur and business owner, it can be challenging to wear multiple hats in your company and take a step back and think beyond the day-to-day operations. The Growth Coach is unique because we don't offer a six-week class that promises to fix your problems – that doesn't work – we partner with you to create lasting change by helping you step back, see the big picture, evaluate the issues, create solutions and stay accountable," Busch said.
"Whether you're a business owner that is frustrated and burnt out and have lost your passion for the business you created or a leader looking to build a brighter future that helps you get out of the weeds and into a more strategic role, The Growth Coach can certainly help," O'Keith said.
As Growth Coaches, O'Keith and Busch are both certified in The Strategic Mindset coaching process, which adheres to the standards, practices and policies that the International Coaching Federation has outlined in their Code of Professional Standards and Ethics. The company's landmark Strategic Mindset Process© is so effective that it comes with a money-back guarantee.
O'Keith and Busch met while in their last corporate roles and became friends while training and developing others within that company. When the COVID-19 pandemic hit, they found themselves both looking to leverage their skills to help other struggling businesses. They combined their passion for training and development and found a great method and approach to service those critical needs that local businesses were facing and launched The Growth Coach of Greater Kansas City.
Busch's background is in telecommunications, where she focused on improving customer service through business excellence. She was a contract trainer – developing course work, leading train the trainer programs and more – and she led the installation and training team that installed thousands of systems across the United States. She also worked as a real estate agent and broker, where she was in charge of new agent training and coaching.
Before The Growth Coach, O'Keith worked as a customer experience consultant and advisor and helped many mid- to large-size companies, such as General Electric, JE Dunn, DST, Otis Elevators, Florida Power & Light, Mazda, and Grainger (to name a few), design better Customer Experiences, improve sales and marketing programs, develop Voice of the Customer programs and employee engagement initiatives, and implement continuous improvement efforts. O'Keith is a well-known guest speaker for such organizations as Forrester Market Research, Walker Research and Consulting, Direct Marketing Association, Business Marketing Association, Customer Experience Professionals Association and the Association of Customer Contact Professionals. She has served on many global advisory boards and she holds multiple degrees, and certifications, including certifications as a Customer Experience Professional, Professional Business Coach, and Lean Six Sigma Black Belt.
"Cathy and I come from very different backgrounds, but we are both very passionate about helping business owners, sales professionals and company leaders be more successful through The Growth Coach's proven program, which makes us an excellent team. We are looking forward to working with business leaders in our community to help them grow stronger companies, build lasting systems and find the work/life balance we all need," O'Keith said.
The Growth Coach, founded in Cincinnati, Ohio, sold its first franchise in 2003, but its leaders have a successful 20-year track record of helping business leaders find success and balance. Today the business and sales coaching franchise is in more than 100 markets worldwide. The Growth Coach was included in Bond's "Top 100 Franchises" and recognized in Entrepreneur Magazine's "Franchise 500" and "Best of the Best," in USA Today and has been featured on FOX, CBS and NBC.
For more information about how The Growth Coach of Greater Kansas City can help you and your business, call 816-272-2727, email either ROKeith@TheGrowthCoach.com or CBusch@TheGrowthCoach.com or visit https://www.thegrowthcoach.com/greater-kc/. You can also find them on LinkedIn at http://www.linkedin.com/in/rokeith or http://www.linkedin.com/in/cathy-busch-6363285.
ABOUT THE GROWTH COACH
The Growth Coach was founded in Cincinnati in 2003 and is the only pure business and sales coaching franchise aimed at driving success while balancing the lives of business owners, managers, salespeople, self-employed professionals and executives across a wide spectrum of businesses and industries. The Growth Coach specializes in group workshops and individual coaching with the goal of helping clients gain greater focus and leverage to work less, earn more and enjoy more fulfilling lives. The Growth Coach is active in more than 100 markets in the United States and abroad and is -always looking to expand domestically and internationally. For more information visit http://www.TheGrowthCoach.com.