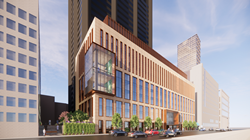 NEW YORK (PRWEB) March 16, 2023
Two top cancer experts have been named to lead Mount Sinai's new Tisch Cancer Hospital, which is under development and due to open in 2027. Cardinale B. Smith, MD, PhD, has been appointed Chief Medical Officer for the Tisch Cancer Hospital and Vice President of Cancer Clinical Affairs, and Ash Tewari, MBBS, MCh, has been appointed Surgeon-in-Chief of the Tisch Cancer Hospital.
The Tisch Cancer Hospital will be a state-of-the-art cancer facility at The Mount Sinai Hospital, thanks to a generous $60 million gift from James S. and Merryl H. Tisch. Under the leadership of Dr. Smith and Dr. Tewari, the Hospital, which is part of the Tisch Cancer Center launched last year, will transform oncologic care, expand access to life-saving breakthroughs, and promote Mount Sinai as a leader in cancer treatment and research.
"Mount Sinai's vision for the Tisch Cancer Hospital was bold," said Mr. Tisch, Co-Chairman of the Boards of Trustees of the Mount Sinai Health System. "We knew that we needed exceptional leaders to create a transformational cancer care experience under one roof, and we feel confident that Dr. Smith and Dr. Tewari are those leaders."
Dr. Smith will oversee clinical operations and quality of the new inpatient oncology units at the Tisch Cancer Hospital and inpatient cancer care elsewhere throughout the Health System. In addition, she will integrate oncology clinical care within the ambulatory and inpatient settings across the Health System with The Tisch Cancer Institute's research and teaching missions.
"I see my role as Chief Medical Officer as the person who's responsible for the patient's journey from start to finish," Dr. Smith said. "When I first heard the news that I was appointed to this role I was elated, and then I really took some time to reflect on what brought me to Mount Sinai 20 years ago—the commitment that Mount Sinai has always had to community and how that has always aligned with my own personal values around social justice, equity and engaging with communities. And it is beyond thrilling to think that I'm now in a place where I'm able to really align all of those values together to really lead and impact and effect change."
Dr. Tewari will be responsible for provider aspects of daily operations for surgical oncology inpatients at the Tisch Cancer Hospital. He will ensure integration among inpatient surgical oncology, the Tisch Cancer Hospital, and departmental research and teaching missions.
"The Tisch Cancer Hospital will be a hospital within the hospital that is supported by experts from various areas of medicine," Dr. Tewari said. "We have the best cardiologists, the best endocrinologists, the best transplant experts, the best nephrologists, and that is what will differentiate our cancer care because cancer doesn't come in isolation, it comes in a whole body that has many other issues going on at the same time. The best patient outcomes depend on not just taking care of one thing, but one thing with respect to the others."
Dr. Smith, whose other roles at Mount Sinai Health System have included Chief Quality Officer for Oncology, has demonstrated continued excellence in leadership, research and patient outcomes since her appointment to the faculty in 2010. A highly regarded research scientist with a robust grant portfolio supported by the National Institutes of Health and the American Cancer Society, Dr. Smith works with her interdisciplinary research team to improve the quality of care for patients with cancer with a focus on underrepresented populations and developing novel models of equitable cancer care delivery.
A pioneer in robotic surgery, Dr. Tewari has been involved in developing robotic prostatectomy from its inception. Dr. Tewari, who is Chair of the Milton and Carroll Petrie Department of Urology at the Icahn School of Medicine at Mount Sinai, is one of only a few robotic surgeons to be awarded research grants from the National Institutes of Health and the Department of Defense, including an R01 grant for which he served as the Principal Investigator, researching the utility of multiphoton microscopy during prostate cancer treatment.
The new Tisch Cancer Hospital will be located at 1440 Madison Avenue and will consist of four floors with approximately 18 single-bed rooms on each floor. There will also be a series of innovative clinical spaces designed to ease transitions between various stages of treatment.
The hospital will contribute to the overall mission of The Tisch Cancer Center by expanding Mount Sinai's clinical cancer research at a time when many of the newest cancer care drugs and treatments require inpatient monitoring. When completed, the hospital will have calming, warm environments and respite spaces for patients, their loved ones, and staff, offering a holistic approach to care of patients and their loved ones.
The Tisch Cancer Center, established in 2022 as part of the landmark gift from the Tisch family, broadens access to breakthrough therapies, diagnostics, and clinical trials and will further Mount Sinai's mission to provide advanced, personalized treatment and holistic care for patients in all communities. Ramon Parsons, MD, PhD, was named as director of the Center in addition to his role as director of The Tisch Cancer Institute, a National Cancer Institute-designated cancer center.
"We're already known for having an excellent cancer center, but the new cancer hospital is really going to put us on a new level where we'll be able to offer our patients the specialty care they need when they need to be hospitalized," said Dr. Parsons. "This new hospital requires bold visionaries at the helm, and we have that with Dr. Smith and Dr. Tewari. Both of them are experts in their fields, and they're committed to not only high-quality care but making sure that we provide access to care and equity of care to all of our patients."
Luis Isola, MD, Director of Cancer Clinical Programs and Medical Director of Mount Sinai Cancer Network, added, "we have 300,000 ambulatory visits a year and 10,000 hospital visits a year. And the breadth of our faculty, our nursing, and our staff really speak for themselves as to why New York City wants Mount Sinai to be the newest and the best cancer center for this city."
The Mount Sinai Health System
The Mount Sinai Health System is one of the largest academic medical systems in the New York metro area, with more than 43,000 employees working across eight hospitals, over 400 outpatient practices, over 300 labs, a school of nursing, and a leading school of medicine and graduate education. Mount Sinai advances health for all people, everywhere, by taking on the most complex health care challenges of our time — discovering and applying new scientific learning and knowledge; developing safer, more effective treatments; educating the next generation of medical leaders and innovators; and supporting local communities by delivering high-quality care to all who need it.
Through the integration of its hospitals, labs, and schools, Mount Sinai offers comprehensive health care solutions from birth through geriatrics, leveraging innovative approaches such as artificial intelligence and informatics while keeping patients' medical and emotional needs at the center of all treatment. For more information, visit https://www.mountsinai.org or find Mount Sinai on Facebook, Twitter and YouTube.