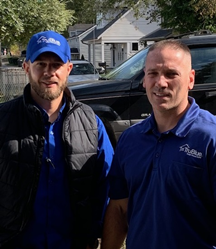 Keeping up with your to-do list can be challenging, whether you're an older adult, a busy family, a single parent or you just have a demanding job. TruBlue can take care of your entire to-do list with just one call. - Brett Nebel
FRANKLIN, Tenn. (PRWEB) November 15, 2019
Two former firefighters have joined forces to bring TruBlue Total House Care to Franklin, Tennessee. The local business, TruBlue of Franklin, just launched this fall.
TruBlue is a full-service company that provides professional handyman, maid, lawn and seasonal services that are perfect for busy families, seniors and anyone who wants the comforts of their own home without worrying about critical property maintenance. TruBlue of Franklin, co-owned by Brett Nebel and Josh Trahan, serves Spring Hill, Franklin, Nolensville, Thompson's Station, Arrington, College Grover, Leiper's Fork and the surrounding area.
To assist those with ongoing home care needs or who want to take property management off their plates entirely, TruBlue has a monthly House Care Plus program, which enables clients to hire TruBlue to provide regular, monthly maintenance. TruBlue also works with homeowners, realtors and rental property owners who need to quickly get homes move-in ready and keep them maintained, and has commercial services for business clients.
"The services we provide at TruBlue, either individually or as part of our House Care Plus program, are all about helping you maintain your home as conveniently as possible. Keeping up with the to-do list can be challenging, whether you're an older adult, a busy family, a single parent or you just have a demanding job. TruBlue can take care of your entire to-do list with just one call," Trahan said.
Nebel is a retired New York City firefighter and Trahan is a retired industrial oilfield firefighter. Nebel and his wife, Melanie, have two daughters. Trahan and his wife, Christina, have three daughters and one son. Both families live in the Spring Hill area.
"We've spent our careers putting our lives on the line and, even in retirement, we knew we wanted to do something to help people. We liked the concept of TruBlue not only because it gives us an opportunity to make a difference in our community, but because of the company's focus on working with seniors," Nebel said.
"My parents are living with us right now and I know that, if that wasn't an option, I'd be looking for a company like TruBlue to help them stay safely in their own home. When you combine our senior-focused services with our House Care Plus program, TruBlue can offer the peace of mind families and older adults are looking for as they age in place," Trahan added.
TruBlue of Franklin is licensed, bonded and insured. To learn more about TruBlue of Franklin, call (615)229-7235, email JTrahan@TruBlueHouseCare.com or BNebel@TruBlueHouseCare.com, or visit http://www.TruBlueHouseCare.com/Franklin.