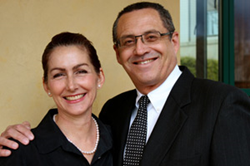 "One advantage we have being board-certified plastic surgeons is that we can offer the gamut as far as surgical and nonsurgical procedures, so we fit and tailor the procedure, doing whatever it takes to achieve that patient's goals."
SANTA ROSA, Calif. (PRWEB) March 05, 2019
Castle Connolly Medical Ltd. recently announced its annual selection of Top Doctors in the San Francisco/Bay Area. https://www.enhanceyourima ge.com/about/surgeons [Plastic Surgery Associates __title__ ] is proud to share that its own Heather Furnas, MD and Francisco Canales, MD were included in this elite group of physicians. This marks the third consecutive year for Dr. Furnas to earned this title and the seventh year for Dr. Canales to be named a Top Doctor by Castle Connolly.
Castle Connolly publishes its annual list of top physicians in an effort to assist consumers looking for a dedicated, trustworthy physician in their area. Each year, more than 50,000 doctors are given the chance to cast a ballot recognizing their esteemed peers. More than 100,000 nominations are cast during the ballot process. Each is then scrutinized by Castle Connolly's physician-led research team, reviewing the doctor's credentials, board certification, education, training, hospital appointments and disciplinary history. After careful consideration, approximately 5% of the nominated physicians will meet the strict criteria to be selected as a Castle Connolly Top Doctor. Physicians cannot pay to be included among this highly selective list.
The annual Top Doctor listing is regarded as a valuable consumer resource. Castle Connolly Medical Ltd.'s President and CEO Dr. John Connolly has this to say: "Only a small percent of physicians are selected to be one of the Castle Connolly Top Doctors. Our goal is to make it easier for an average person to find the right doctor for them in what can be an overwhelming process at a difficult time in a person's life."
With hundreds of plastic and cosmetic surgeons practicing in the Bay Area, ranking among the top physicians is a notable accomplishment. Dr. Canales has consistently ranked in Castle Connolly America's Top Doctors since 2012. His partner, Dr. Furnas, has also been a part of Castle Connolly's list each year since 2017. One key factor that sets Plastic Surgery Associates apart from other practices is individualized attention. Dr. Canales explains, "The most important part is to have an individual plan for each patient, so there is no 'cookie cutter' plan, every patient gets their own recommendation,". Dr. Furnas goes on to say, "One advantage we have being board-certified plastic surgeons is that we can offer the gamut as far as surgical and nonsurgical procedures, so we fit and tailor the procedure, doing whatever it takes to achieve that patient's goals,".
PLASTIC SURGERY ASSOCIATES:
Plastic Surgery Associates was founded by Dr. Furnas and Dr. Canales in 1992. Today, their practice has is one of the most respected aesthetic providers in the country. Both board-certified plastic surgeons, both Dr. Furnas and Dr. Canales have more than 30 years of surgical and noninvasive experience.
Plastic Surgery Associates offers a variety of surgical procedures, each developed by Dr. Canales and Dr. Furnas, including the rapid recovery breast augmentation technique, female genital rejuvenation and the innovative Mommy Makeover. Additionally, to meet the evolving needs of their patients, Dr. Furnas and Dr. Canales have opened Allegro MedSpa adjacent to Plastic Surgery Associates. Here, patients can find the best skincare and noninvasive treatments such as Botox Cosmetic, CoolSculpting and Ultherapy, in a luxurious, spa-like environment.
For patient convenience, Plastic Surgery Associates has two northern California locations, in Santa Rosa and Novato. To get more information on the surgical and noninvasive procedures available, or to schedule a complimentary consultation with Dr. Furnas or Dr. Canales, speak with a patient coordinator at 707.537.2111. For more information on the Top Doctors for 2019, please visit the Castle Connolly website.
Contact Information
Plastic Surgery Associates
4625 Quigg Drive
Santa Rosa, California 95409
707.537.2111
http://www.enhanceyourimage.com