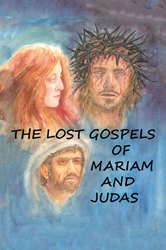 LOUISVILLE, Ky. (PRWEB) November 05, 2021
The truth and facts of historic tales can be unknown and a mystery to many. In "The Lost Gospels of Mariam & Judas," the author who writes under the pen name Rev. William Williams, shares a pseudepigraphic work revealing a new telling of the life-story of one of the most influential figures in history, Jesus Christ, or, as he would have been known at that time, Yeshua the Nazarene. According to the biblical account, only about three years of Jesus' life are accounted for. "The Lost Gospels of Mariam & Judas" exposes a different story of Jesus' entire life to solve the puzzle of his birth up to the mystery of his death and what may have really happened afterwards.
In the book, an anonymous researcher, archivist and translator discovered these long-lost accounts in the Vatican Apostolic Archive written by Mariam of Magdala and Judas Iscariot. After translating the ancient scrolls, the researcher realized the words of Mariam and Judas could be a threat to the Church. The researcher feared the Church would suppress these words of Mariam and Judas and may very possibly destroy it. The researcher gave this translated document to the Reverend William Williams with the hopes of him publishing this important information for the world to see. In the book, Williams examines the words contained in the ancient scrolls of Mariam and Judas to provide answers to this 2,000-year-old mystery.
This book, the result of years-long research from biblical and scholarly works, is a richly detailed new account of the life of Jesus and the two who knew him best, Mariam of Magdala and Judas Iscariot. Ultimately, lovers of mysteries and historical fiction will find "The Lost Gospels of Mariam & Judas" fascinating as they follow along on Williams' journey seeking the truth.
"The Lost Gospels of Mariam & Judas"
By Rev. William Williams
ISBN: 9781665532310 (softcover); 9781665532327 (hardcover); 9781665532334 (electronic)
Available at Amazon, Barnes & Noble and AuthorHouse
About the author
The late Reverend William Williams is the author of the autobiography "Will It Play in Peoria" and the compiler of "The Lost Gospels of Mariam & Judas." A student of philosophy and theology, he strived to make sense of this world.
General Inquiries:
LAVIDGE – Phoenix
480-306-6597
mbowman@lavidge.com