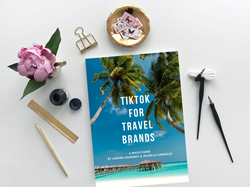 Many people still think of TikTok as nothing more than an app where teenagers post dance videos. In reality, TikTok has evolved into a dynamic ecosystem where you can find content on just about any topic imaginable. And travel is one of the fastest-growing content categories.
NEW YORK (PRWEB) August 12, 2020
TikTok travel creators Michelle Gonzalez (@LAXtoLuxury) and Carmen Sognonvi (@TopFlightFamily) today released the white paper "TikTok for Travel Brands." The white paper demonstrates that despite the controversy currently surrounding the app, TikTok offers an unprecedented opportunity for travel brands not only to connect with Gen Z travelers, but also to nurture relationships with the many millennial and Gen X travelers who are avid TikTok users. The white paper is available for download at http://tiktokfortravelbrands.com.
"Many people still think of TikTok as nothing more than an app where teenagers post dance videos," says Sognonvi. "In reality, TikTok has evolved into a dynamic ecosystem where you can find content on just about any topic imaginable. And travel is one of the fastest-growing content categories. There's no better time than now for travel brands to start experimenting with this platform."
Here are just a few of the surprising statistics uncovered by this white paper:

The TikTok audience is largely exclusive. 72% of users are not on Twitter, 45% are not on Facebook and 43% are not on Instagram.
34% of TikTok users are 25 or older. That is to say, more than a third of the audience are millennial and Gen X users, and this percentage is on the rise.
The average TikTok user opens the app 16+ times a day and spends an average of 80+ minutes per day on the app. Contrast that with Instagram, where only 42% of users open the app more than once a day, and the average user spends only 27 minutes per day on the app.
Beyond its unduplicated audience, there are two other attributes that differentiate TikTok from other social media platforms: life of content and the potential for virality.
"Unlike Instagram, where reach and engagement drop off after 48 hours, existing content on TikTok continues to be pushed out to new users," explains Gonzalez. "TikTok content has the potential to experience 'delayed explosions,' with videos often experiencing surges in viewership and reach weeks (or even months) after they were originally posted."
"The democratization of virality is another important differentiator," says Sognonvi. "On other platforms, it's the already-popular creators who see the best results. But on TikTok, even creators with smaller audiences have a shot at virality and rapid growth when they produce authentic, well-received content. It levels the playing field."
For best results, Gonzalez and Sognonvi recommend that travel brands pursue three content strategies simultaneously:
1. Create their own branded TikTok account;
2. Partner with TikTok creators; and
3. Encourage travelers to create TikTok videos about the brand.
In terms of content, there are five tried-and-true formats that travel brands should focus on:
1. Room/property tours;
2. Informational videos;
3. Aesthetic scenes;
4. Q&A videos; and
5. Vlogs.
There are four primary ways travel brands can find relevant travel creators on TikTok:
1. Use the official TikTok Creator Marketplace to find creators with over 100K followers;
2. Search hashtags of comparable brands or destinations, such as #stregismaldives;
3. Explore whether travel bloggers, YouTubers or Instagram creators they're already working with have crossed over to TikTok with success; and
4. Search niche travel hashtags relevant to their brand, such as #luxuryhotel, #familytravel or #adventuretravel.
When it comes to identifying quality partners, travel brands should look for travel creators who exhibit these four traits:
1. Use a variety of formats, instead of doing the same thing over and over again;
2. Adapt current TikTok trends for the travel niche;
3. Have an engagement rate of at least 5%, and a total likes count equal to at least 10 times their follower count; and
4. Actively reply to follower comments to encourage conversation.
It's no secret that TikTok has been embroiled in controversy of late. There have been widespread concerns about the data collected by TikTok and whether that data is being shared with the Chinese government. The Trump administration has threatened to ban the app in the U.S. unless Chinese-owned parent company ByteDance finds a U.S. buyer by September 15th. In turn, TikTok has threatened to sue the Trump administration in an attempt to contest the legality of the ban. Meanwhile, Instagram has released a new feature called Reels which aims to compete with TikTok. In this white paper, Gonzalez and Sognonvi analyze each of the factors that could jeopardize TikTok's long-term feasibility and share their own predictions about the future of TikTok, enabling travel brands to make informed decisions about whether they should invest in marketing on TikTok.
Imagery and assets can be downloaded here:
http://www.tiktokfortravelbrands.com/assets
About Carmen Sognonvi
Carmen is a luxury family travel creator based in New York City. Her insights on travel have been featured in The Washington Post, INSIDER, and HuffPo. Her long-term brand partners include Delta Air Lines, American Express and Disney. She has done sponsored TikTok campaigns with Sonder, Visit Williamsburg and more. Her TikTok account is @TopFlightFamily.
About Michelle Gonzalez
Michelle is a Los Angeles-based luxury travel creator who prioritizes both the journey and the destination, sharing aspirational flights and properties alike. She is an authority on luxury travel on TikTok, gaining 320k+ followers, 70M+ views and 8.5M+ likes since making her social media debut in late December 2019. She was recently invited to join the official TikTok Creator Program. Her TikTok account is @LAXtoLuxury.