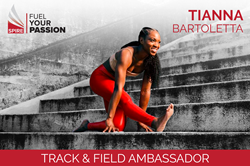 I can't wait to work with the professionals at SPIRE to help present our student athletes with opportunities to discover their potential, develop new insights, and learn from others who are eager for new challenges
GENEVA, Ohio (PRWEB) August 13, 2020
Long jump and short sprint champion Tianna Bartoletta has joined SPIRE Institute and Academy (IA) as an ambassador. In her new position, the world champion, two-time Olympian and published author will lead programs for SPIRE's student athletes-- virtually as well as during her on-campus visits.
Bartoletta attended Ohio public schools, including Elyria High School. She earned a spot on the 2003 USA TODAY All-USA High School Girls Track Team, becoming only the third athlete in Ohio history to win four events at a state championship meet two years in a row. In both the 2012 and 2016 Summer Olympics, she led the US team to gold in the 4 x 100m relays, taking her third gold in 2016 with a personal best in the long jump. She attended the University of Tennessee where she holds the record for best all-time mark of 6.89m in the outdoor long jump.
"I can't wait to work with the professionals at SPIRE to help present our student athletes with opportunities to discover their potential, develop new insights, and learn from others who are eager for new challenges," said Bartoletta. "I believe every experience – positive or negative – shapes us into a better version of ourselves. With the right mindset, circumstance can be a powerful teacher that enables our growth, refines our character, and makes us stronger. I find purpose in the struggle and am dedicated to a life of betterment through resiliency and empathy. My position as a SPIRE ambassador will give me the opportunity to share that philosophy."
SPIRE offers top-notch indoor and outdoor track and field facilities, including an 9-lane, 400-meter polyurethane international track with 48-inch lanes, 4 long jump pits, 8 high jump positions and 4 pole vault boxes, an indoor, 8-lane, 300-meter Beynon track and a separate field event area with 2 high jumps, 2 long jumps, 2 pole vault pits, 2 shot put circees and portable weight throw cases for discus, shot, and weight throws.
SPIRE is under new ownership/leadership, after having been purchased in December 2019 by Axxella, LLC a Baltimore, Maryland-based investment firm owned by Blue Ocean Realty.
"We are excited to welcome Tianna to the team at SPIRE," said Blue Ocean President and CEO Jonathan Ehrenfeld. "Our ambassadorship program couples track and field training with a commitment to maximize each student's personal development. We are confident that Tianna will help our student athletes excel in their sport, in school, at work, and at life itself."
In addition to being regarded as a top-tier athletic training facility, SPIRE serves as a popular venue for local, national and international events, including NCAA D1 and D2, Big Ten, Big East and NAIA meets, Horizon League Indoor and GLIAC Outdoor Track and Field Championships and more.