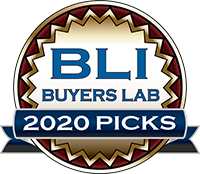 FAIRFIELD, N.J. (PRWEB) January 07, 2020
Keypoint Intelligence – Buyers Lab (BLI), the world's leading independent provider of testing services and analytical information to the document imaging industry, today announced its Pick award recipients in the Copier MFP category, with the accolades going to devices from Kyocera and Sharp. Awarded twice annually for office equipment, Picks acknowledge the products that gave the best performances in Buyers Lab's extensive suite of lab tests in the previous six months.
The BLI Winter 2020 Copier MFP Pick awards go to the following exceptional devices*:
KYOCERA TASKALFA 7003I
Outstanding 70-ppm Copier MFP
(also sold under the Copystar brand)
KYOCERA TASKALFA 8003I
Outstanding 80-ppm Copier MFP
(also sold under the Copystar brand)
KYOCERA TASKALFA 9003I
Outstanding 90-ppm Copier MFP
(also sold under the Copystar brand)
SHARP MX-2651
Outstanding 26-ppm Color Copier MFP
SHARP MX-3071
Outstanding 30-ppm Color Copier MFP
SHARP MX-3571
Outstanding 35-ppm Color Copier MFP
SHARP MX-4071
Outstanding 40-ppm Color Copier MFP
SHARP MX-5071
Outstanding 50-ppm Color Copier MFP
SHARP MX-6071
Outstanding 60-ppm Color Copier MFP
SHARP MX-M2651
Outstanding 26-ppm Copier MFP
SHARP MX-M3071
Outstanding 30-ppm Copier MFP
SHARP MX-M3571
Outstanding 35-ppm Copier MFP
SHARP MX-M4071
Outstanding 40-ppm Copier MFP
SHARP MX-M5071
Outstanding 50-ppm Copier MFP
SHARP MX-M6071
Outstanding 60-ppm Copier MFP
*NOT ALL PRODUCTS ARE SOLD IN ALL REGIONS.
KYOCERA CRUSHES IT IN THE HIGH-RANGE MONOCHROME COPIER MFP SPACES
"The KYOCERA TASKalfa 7003i, 8003i, and 9003i proved to be highly reliable in the nearly 500,000 impressions we ran on them total," said George Mikolay, Keypoint Intelligence's Associate Director of Copier MFP/Production Analysis. "When also taking into consideration the ease in which paper can be loaded, high paper capacities, and simple procedures for clearing misfeeds in the unlikely event that one should occur, these devices will keep your large workgroups productive, day in and day out. Outstanding guidance and creation of profiles from the driver and control panel make the engine equally easy to use whether printing or walking up to scan or copy, and image quality will far surpass the needs of general office environments. Low price points and above average feature sets make the value proposition for each device extremely enticing."
SHARP SHINES ACROSS COPIER MFP SEGMENTS
"We ran over one million impressions on Sharp copier MFPs this season, to exceptional overall results," said Mikolay. "As a whole, productivity results were better than other competitors. Short- and long-run jobs for printing, scanning, and copying were completed in a timely manner to allow users to remain effective and efficient. Above average memory for faster processing of jobs is another nicety, as is above average paper weight support for media flexibility. Strong reliability and above average maximum paper capacities mean less downtime for users to clear misfeeds or refill paper drawers. IT administrators will love the web user interface's intuitiveness and search and shortcut functionality. And Sharp's 'know one, know all' approach means users of the drivers and control panel will enjoy the same very good overall usability regardless of which machine is close to their particular workspace."
Stay tuned for our announcements of more prestigious awards!
WEDNESDAY, JANUARY 8: Copier MFP, Printer/MFP, and Scanner Line of the Year awards
ABOUT KEYPOINT INTELLIGENCE - BUYERS LAB
Keypoint Intelligence is a one-stop shop for the digital imaging industry. With our unparalleled services and unmatched depth of knowledge, we cut through the noise of data to offer clients the independent insights and responsive tools they need in those mission-critical moments that define their products and empower their sales.
For over 50 years, Buyers Lab has been the global document imaging industry's resource for unbiased and reliable information, test data, and competitive selling tools. What started out as a consumer-based publication about office equipment has become an all-encompassing industry resource. Buyers Lab evolves in tandem with the ever-changing landscape of document imaging solutions, constantly updating our methods, expanding our offerings, and tracking cutting-edge developments.
ABOUT BUYERS LAB PICK AWARDS
Buyers Lab Picks stand alone in the industry and are hard-earned awards as they are based on rigorous testing, including an extensive durability assessment and evaluation of key attributes such as usability, image quality, and value. Each product that passes our lab test earns Buyers Lab's Recommended or Highly Recommended seal and our Certificate of Reliability, with the best performers qualifying as Pick contenders.
SOCIAL MEDIA
Follow Keypoint Intelligence - Buyers Lab on Twitter
Connect with Keypoint Intelligence - Buyers Lab on LinkedIn
CONTACT
Deanna Flanick
+1 973-797-2145
deanna.flanick@keypointintelligence.com