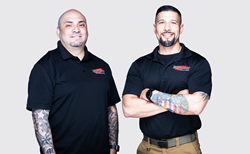 We want to change the experience people have come to expect from a painting company by combining the Fresh Coat Painters business model with our values and training from our military service. - Mike Mejia
MCALLEN, Texas (PRWEB) April 05, 2021
Army Veterans Gilbert "Gil" Perez and Miguel "Mike" Mejia are pleased to announce the launch of their new local business – Fresh Coat Painters of McAllen.
Fresh Coat Painters of McAllen serves McAllen, Mission, Edinburg and the surrounding areas. The company offers painting services including interior and exterior painting, sealing and staining; popcorn ceiling removal; garage epoxy; drywall repair; agricultural repair; gutter cleaning and more. Fresh Coat Painters has a 24/7 receptionist, online scheduling and free detailed quotes, and they only use high-quality materials.
"Fresh Coat Painters brings a level of value and service to the industry that other companies can't match. We aren't in this business to make a quick buck – we want to change the experience people have come to expect from a painting company by combining the Fresh Coat Painters business model with our values and training from our military service. You can count on us to be trustworthy and dependable while doing high-quality work. It's about craftsmanship and customer service," Mike said.
As part of the company's commitment to customer service, Fresh Coat Painters offers a 3-3-3 customer service pledge, which means calls will be answered by a live person within three rings, a quote will be delivered within three days (customer schedule permitting) and the job will be started within three weeks by background-checked professional craftsmen. Fresh Coat Painters has a national product partnership with Sherwin-Williams®, so products are guaranteed to be high quality.
Gilbert was born in Brownsville, Texas and raised in Kingsville, Texas. Mike's family moved from California to Edinburg, Texas when he was young. They both now live in Edinburg. Gilbert retired from Active Duty after 20 years of honorable service. Mike had also honorably served 20 years of combined service in Active Duty and Reserves until he was medically retired. They were both thinking about their next steps when Gilbert found Fresh Coat Painters while working as a contractor in Kuwait.
"I had planned to work in Kuwait for two years, but after four months of being in lockdown, I knew I needed a change. I had always wanted to be a business owner, so I was looking at franchise opportunities through a veterans' website when I found Fresh Coat Painters and reached out to Mike," Gilbert said. "Fresh Coat Painters allows us to use our leadership skills to build a business that can create local jobs, provide a much-needed service to our community and give us the opportunity to finally be home with our families."
Fresh Coat Painters was founded in 2004 as part of Strategic Franchising Systems. Since 2015, Fresh Coat Painters has been included in the Bond's Top 100 and named to Entrepreneur Magazine's Franchise 500 list. Fresh Coat Painters is also part of the International Franchise Association, the Small Business Association's Franchise Registry, VetFran and Minority Fran. Fresh Coat Painters of McAllen is bonded and insured.
For more information about Fresh Coat Painters of McAllen, call (956) 515-2323, email GPerez@FreshCoatPainters.com or MMejia@FreshCoatPainters.com, or visit http://www.FreshCoatPainters.com/McAllen.