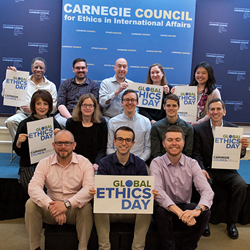 Ethics in Action: Join the growing list of institutions worldwide and plan an activity for Global Ethics Day on October 17.
(PRWEB) October 03, 2018
A walkathon in Oman; film festivals in Hong Kong and Singapore; a day on bioethics in Bulgaria; and lectures, movie screenings, debates, and panels around the world: What do they all have in common? These are just some of the activities planned for Global Ethics Day on Wednesday October 17, 2018.
Launched by Carnegie Council in 2014, Global Ethics Day is an opportunity for institutions to hold events on or around this day to focus on ethics. Inspired by Earth Day, it's a time to explore the crucial role of ethics--in international affairs, in every profession, and in everyday life.
To learn more and to find out how to participate, go to http://www.globalethicsday.org.
Check out the growing list of participants and contact Carnegie Council to add your name to the Global Ethics Day roster: https://globalethicsday.org/contact-us/
ABOUT CARNEGIE COUNCIL
Founded by Andrew Carnegie in 1914, Carnegie Council for Ethics in International Affairs is an educational, nonprofit, nonpartisan organization that produces lectures, publications, and multimedia materials on the ethical challenges of living in a globalized world. Go to http://www.carnegiecouncil.org.