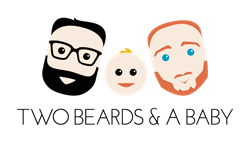 'Something that keeps coming up ...is how intentional this process is for us. There's no way we'll accidentally find ourselves with a baby. There is so much thought, and intention, and love that has to go into becoming parents, for us,' said Szabo.
Portland, OR (PRWEB) June 22, 2015
Same sex couple Kirk Shepard and Anthony Szabo are turning to crowdfunding with an Indiegogo campaign to help them achieve their dream of fatherhood. Married since 2013, the couple is committed to becoming parents of a child that is genetically theirs, and therefore must engage in the expensive, complicated and politically-charged process of surrogacy.
"There is no getting around the fact that, because of who we love and who we're married to," discussed Shepard, "that our starting line is about 50 yards back from where most straight couples are starting from." The process of gestational surrogacy involves a female carrier who is impregnated with an embryo created from genetic material from one (or both) fathers and an egg from a third-party donor. The process, which includes fees for the carrier, attorneys, a surrogacy agency, and medical bills, can easily cost well over $100k. "There's a natural connection between reproductive justice and LGBT rights," said Szabo. "Access to fertility services is critical to the full recognition of LGBT people's right to build their families in the ways they choose."
Surrogacy has long been a controversial subject. Many US states still outlaw it completely, while others heavily regulate aspects of compensation, as well as LGBT parental rights. "It takes a lot of focus and energy," said Shepard. "We know there are millions of people out there who understand what it's like to have a dream of starting a family—and there are just as many people out there who want to support others in making that dream a reality."
Shepard and Szabo are committed to more than becoming fathers. They are hoping to increase awareness and access to surrogacy for a whole generation of Americans who share their dream of parenthood. In addition to raising money for their own surrogacy effort, they also hope their campaign will shed light on the broader struggle for aspiring parents who are unable to conceive within the confines of traditional family planning. It is their desire to normalize the concept of surrogacy, in particular, as well as LGBT reproductive rights, in general. "There are thousands of LGBT couples who are waiting to become parents," discussed Szabo. "There is a patchwork of laws around surrogacy and adoption from state to state. In more than half of the US, LGBT couples are denied second-parent adoptions, which essentially means they are prevented from fully and legally co-parenting their children." These legal obstacles limit the ways in which LGBT parents can grow and protect their families.
"Something that keeps coming up in our discussions about becoming parents is how intentional this process is for us. There's no way we'll accidentally find ourselves with a baby. There is so much thought, and intention, and love that has to go into becoming parents, for us," said Szabo. "If we weren't totally passionate and committed to this, we wouldn't be embarking on this journey."
Shepard concluded: "Reaching out to the crowdfunding community is way to remind us that we're all in this together. "