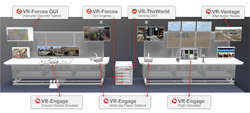 CAMBRIDGE, Mass. (PRWEB) June 17, 2019
VT MAK, (MAK), a company of VT Systems, today announced that it has clinched a major Prototype Other Transaction Agreement worth US$95m from the U.S. Army to meet demands for next generation collective training. Working through the Training and Readiness Accelerator (TREX), VT MAK will develop and deliver the Training Simulation Software (TSS) and Training Management Tool (TMT) components of the U.S. Army's Synthetic Training Environment (STE).
The TSS and the TMT, combined with the One World Terrain (OWT), form the STE Common Synthetic Environment (CSE). The STE CSE delivers software, application(s) and services that will enable the Reconfigurable Virtual Collective Trainer (RVCT), Soldier Squad Virtual Trainer (S/SVT), Integrated Visual Augmentation System (IVAS) and will support interoperability with the future Next Generation Constructive, Live Training Environment, and other STE capabilities.
"Every technical advancement in our past dozen years has brought MAK to this achievement — where we are able to offer our capabilities and architecture that precisely meet the needs of the U.S. Army's ambitious STE Common Synthetic Environment," said Dan Brockway, Vice President of Marketing and Information Systems for VT MAK.
The MAK CSE solution is based on the full MAK Suite of simulation software. VR-Forces provides a unified simulation engine for both artificial intelligence-controlled entities (computer generated forces) and player-controlled entities. VR-Engage provides the virtual player and trainee interfaces to the simulation, and will serve as the basis for RVCT and S/SVT simulators. The VR-Forces GUI serves as the foundation of the Training Management Tool to support scenario authoring, control, and assessment. All components use the common VR-Vantage visualization engine for 3D rendering as well as for 2D tactical maps, ensuring consistent displays throughout the system. All components also use the common MAK Earth terrain engine to import, load, or stream whole-earth terrain data from VR-TheWorld Server, which acts as the interface to STE's OneWorldTerrain dataset. The full MAK CSE solution will be deployed on premise and in the cloud to support training at the point of need.
Over the course of this project, the MAK Suite will be integrated with new technologies and content and will be customized to meet the future missions of the U.S. Army.
"As Chairman of the Board, I have watched VT MAK's software products mature and grow in capability for 12 years," said John H. Tilelli Jr. General, U.S. Army (Retired). "I appreciate the trust that the Army's Futures Command has placed in VT MAK by making this award. Our goal is to provide soldiers tools that will make them more capable."
VT MAK develops software for live, virtual, and constructive simulation. Over the past 28 years, MAK has built a simulation platform that has been used by industry, academia, and governments around the world to develop winning Research & Development (R&D), Test & Evaluation (T&E), and Training systems. MAK's success can be attributed to the design of The MAK Suite of simulation software — it has benefited from generations of technical innovations driven by customer demand and advancements in commercial technologies.
The result is a powerful simulation system with a modular design with clear application program interfaces (APIs) and proven flexibility and extensibility. MAK is dedicated to serving our customers by building capable products, offering superior technical support, and innovating new ways to build, populate and view interoperable 3D simulated worlds.
VT MAK is a company of VT Systems. Please visit http://www.mak.com for more information.
VT Systems is an engineering company providing integrated solutions to the commercial and government markets in the aerospace, electronics, land systems and marine sectors. VT Systems' innovative solutions, products and services include aircraft maintenance, repair and modification; software solutions in training and simulation; satellite-based IP communications technology; network solutions that integrate data, voice and video; rugged computers and computer peripheral equipment; specialized truck bodies and trailers; weapons and munitions systems; road construction equipment; and ship design and shipbuilding. Headquartered in Alexandria, Va., VT Systems operates globally and is a wholly owned subsidiary of ST Engineering. Please visit http://www.vt-systems.com.