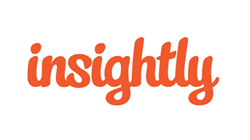 When all customer-facing teams share data and insights with each other and on a consistent basis - the customer experience can be optimized across the entire customer journey.
SAN FRANCISCO (PRWEB) April 07, 2021
The landscape for businesses has undoubtedly changed over the past year - and with it, the relationship between business and customer has evolved. According to a new survey of 500 business decision makers, two-thirds say they know more about their customers now than they did last year. The study, commissioned by Insightly, the leader in customer relationship management (CRM) innovation, and conducted by Zogby Analytics, also shows that businesses rank CRM as the most important tech initiative of 2021, with data management and reporting falling closely behind.
"Businesses are finally recognizing the role comprehensive customer insights play in building lasting connections that can sustain good times and bad," said Anthony Smith, founder and CEO of Insightly. "Last year forced companies to rethink how they do business just as it forced customers to rethink who they are doing business with. When all customer-facing teams share data and insights with each other and on a consistent basis - the customer experience can be optimized across the entire customer journey. As a result, more meaningful connections can be made and customer acquisition and engagement can be improved."
The new survey shows nearly 60 percent of businesses are spending more on marketing in 2021 compared to 2020 - a sign that companies recognize the importance of being proactive with their customers by reconnecting with them throughout more touchpoints in the customer journey.
"Insightly has allowed us to ensure all disparate departments are on the same page as it relates to engagements with our customers," said Randa Doleh, Business Systems & Analytics Manager at Sigma Equipment. "We started using the platform during the pandemic, which has proven to be a game-changer for our manufacturing business because it has helped us develop and strengthen a more complete connection with our customers."
In an effort to help more businesses establish those strong connections with customers, Insightly is offering its top three tips for 2021:
Combine and Conquer: Integrating all parts of the customer journey is critical now more than ever before - and that begins with breaking down walls within your own organization. Sales, marketing and customer service should have full transparency into what each other is doing in order to ensure a cohesive customer experience.
Avoid Email Overload: When it comes to communicating with your customers, keep in mind that digital fatigue is real - especially on the heels of 2020. Avoid mass mailers and instead, focus on personalizing your correspondence so that it is meaningful and less likely to get lost in the shuffle of daily digital downloads. With that, acknowledge the state of the world and think through the challenges that particular customer is facing right now in order to offer helpful insights and connections that matter and will sustain beyond the pandemic.
Put People First: Remember that it's not just about closing the sale (and in reality, it never was). In 2021, customers want genuine connections and those cannot be established with a signature or built overnight. A strong approach to sales this year starts with "humanizing" the approach. Be helpful and offer support - consider delivering "free advice" via useful, original or curated content. Show customers and prospects that you are aware of their unique challenges and are investing in their success.
For more about the Insightly Marketing Survey, visit https://www.insightly.com.
About the Survey
Zogby Analytics was commissioned by Insightly to conduct an online survey of 500 business decision makers. Using internal and trusted interactive partner resources, thousands of adults were randomly invited to participate in this interactive survey. Each invitation is password coded and secure so that one respondent can only access the survey one time. Based on a confidence interval of 95%, the margin of error for 500 is +/- 4.4 percentage points. This means that all other things being equal, the identical survey repeated will have results within the margin of error 95 times out of 100.
About Insightly
Insightly leads customer relationship management (CRM) innovation for growing businesses by connecting sales, marketing and delivery in one secure and easy-to-use platform. With Insightly's unified CRM platform, businesses can align teams around the customer journey and make data-driven decisions. Trusted by more than a million users around the world, Insightly is empowering businesses to compete in the digital age and grow revenues faster. For more information visit https://www.insightly.com.