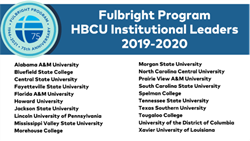 WASHINGTON (PRWEB) May 24, 2021
Today, the U.S. Department of State's Bureau of Educational and Cultural Affairs (ECA) announced it has designated 20 Historically Black Colleges and Universities (HBCUs) as this year's annual Fulbright HBCU Institutional Leaders, recognizing their noteworthy engagement with the Fulbright Program, which is currently celebrating its 75th anniversary.
The Fulbright Program has given more than 400,000 accomplished students, scholars, teachers, artists, and professionals of all backgrounds and fields the opportunity to study, teach, and conduct research in the United States or in one of over 160 partner countries worldwide. These Fulbrighters contribute to mutual understanding between the United States and participating countries, and many go on to work across cultures to find solutions to complex global challenges.
Fulbright students and scholars are from or hosted by more than 800 colleges and universities across the United States, and thousands more campuses in over 160 countries. From its founding in 1946, the Fulbright Program has engaged with all types of U.S. institutions, including minority serving institutions, across the country.
ECA created the Fulbright HBCU Institutional Leaders initiative in recognition of the special role the nation's 105 HBCUs play in making sure students, faculty, and administrators from all backgrounds are able to participate in and benefit from the Fulbright Program. The campuses highlighted this year demonstrated engagement with Fulbright exchange participants and promoted Fulbright Program opportunities on their campuses during the 2019-2020 academic year.
"Congratulations to this year's 20 Fulbright Historically Black College and University Institutional Leaders," said Acting Assistant Secretary of State for Educational and Cultural Affairs Matthew Lussenhop. "We salute you and your institutions for your engagement with the Fulbright Program, and for your commitment to providing life-changing opportunities to students, faculty, and administrators. HBCU participation is critical to fully representing the diversity of the United States through the Fulbright Program. This initiative is part of the U.S. Department of State's long-standing commitment to build diversity and inclusion within the Fulbright Program and within the Bureau's international exchange programs overall."
On June 3, the Fulbright Program will host a Fulbright HBCU Symposium to discuss Fulbright opportunities and resources for HBCUs, the benefits of a Fulbright experience, and the role that the Fulbright Program plays in supporting HBCU campus internationalization, global awareness, and engagement. This public workshop is open to all HBCU faculty, staff, and stakeholders, as well as individuals from other institutions who are interested in attending.
This symposium will celebrate the Fulbright HBCU Institutional Leaders by spotlighting the unique role HBCU students, faculty, and administrators play in representing American higher education and the American experience both in our country and around the world. Highlights will include remarks by the Acting Assistant Secretary of State for Educational and Cultural Affairs, Matthew Lussenhop; a keynote address by Fulbright alumna and President of Prairie View A&M University Dr. Ruth Simmons; and workshop sessions to assist HBCUs in strengthening their relationship with the Fulbright Program.
The event will close with a panel of representatives of Fulbright HBCU Institutional Leaders who will share how their campuses use the array of Fulbright Program offerings to support campus internationalization goals and global engagement efforts, and to build worldwide networks, which are essential for success in our 21st-century world.
Registration is required. Please register here.
Fulbright HBCU Institutional Leaders*

Alabama A&M University, Huntsville, AL
Bluefield State College, Bluefield, WV
Central State University, Wilberforce, OH
Fayetteville State University, Fayetteville, NC
Florida A&M University, Tallahassee, FL
Howard University, Washington, DC
Jackson State University, Jackson, MS
Lincoln University of Pennsylvania, Lincoln University, PA
Mississippi Valley State University, Itta Bena, MS
Morehouse College, Atlanta, GA
Morgan State University, Baltimore, MD
North Carolina Central University, Durham, NC
Prairie View A&M University, Prairie View, TX
South Carolina State University, Orangeburg, SC
Spelman College, Atlanta, GA
Tennessee State University, Nashville, TN
Texas Southern University, Houston, TX
Tougaloo College, Jackson, MS
University of the District of Columbia, Washington, DC
Xavier University of Louisiana, New Orleans, LA
*based on their engagement with the Fulbright Program in 2019-2020
# # #
FACT SHEET: HOW DO U.S. CAMPUSES ENGAGE WITH THE FULBRIGHT PROGRAM?
Dedicated professionals from campuses celebrated as Fulbright HBCU Institutional Leaders have taken part in a wide range of Fulbright Program activities that benefit their faculty and students, including:

Advising students about the Fulbright U.S. Student Program, to help them prepare a competitive application for this opportunity to study, conduct research, or teach abroad
Hosting Fulbright Foreign Students on their campuses, to share their culture and perspectives as they study alongside their American classmates
Hosting Fulbright Foreign Language Teaching Assistants to enhance language acquisition and cross-cultural competency, including in less-commonly taught languages such as Chinese, Swahili, and Arabic
Enabling U.S. faculty members to gain career-enriching international experience through the Fulbright U.S. Scholar Program
Creating empowering connections through Fulbright International Education Administrators (IEA) seminars, in which senior higher education officials learn from their counterparts and higher education systems of other countries
Enabling U.S. faculty members to share their expertise with a foreign institution for project-based, short-term exchanges through the Fulbright Specialist Program
Hosting Fulbright Visiting Scholars and Scholar-in-Residence participants to teach courses, conduct research, assist in curriculum development, establish long-term institutional linkages, and engage with the campus and the local community
•Hosting Visiting Scholars for short-term lectures and cultural engagements through the Fulbright Outreach Lecturing Fund
For U.S. Students, Faculty, and Administrators
The 2022-2023 Competitions for Fulbright U.S. Student Program and Fulbright U.S. Scholar Program are currently open. Students and faculty members can explore how to apply on these websites, and by contacting the Fulbright Program Adviser or Fulbright Scholar Liaison on their campus.
Featured Videos:
What Is Fulbright? I am Fulbright