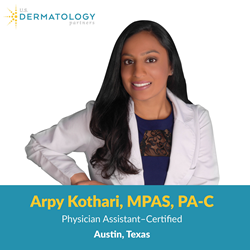 "We are excited for Ms. Kothari to join Board-Certified Dermatologist Hans Sander, M.D. in our Jollyville location," stated U.S. Dermatology Partners Chief Executive Officer Paul Singh. "Her addition to this office furthers our commitment to expanding patient access to high-quality care."
AUSTIN, Texas (PRWEB) December 07, 2021
U.S. Dermatology Partners is pleased to welcome new dermatology Physician Assistant, Arpy Kothari, M.S., PA-C to their Jollyville clinic in Austin, Texas.
Arpy received her Bachelor of Arts in Cell Biology and Neuroscience from Rutgers University in Piscataway, NJ, and earned her Master of Science in Physician Assistant Studies from Baylor College of Medicine in Houston. She has over 16 years of clinical experience in emergency medicine, cardiology, neurology, and dermatology. Prior to moving to Austin, Arpy worked in dermatology groups throughout New Jersey and New York.
Board-certified by the National Commission on Certification and a member of the American Academy of Physician Assistants, Arpy brings a wide range of clinical expertise to U.S. Dermatology Partners. This includes advance knowledge in general medical dermatology and skin conditions such as acne, warts, seborrheic dermatitis, cysts, eczema, dermatitis, and skin cancer.
"We are excited for Ms. Kothari to join Board-Certified Dermatologist Hans Sander, M.D. in our Jollyville location," stated U.S. Dermatology Partners Chief Executive Officer Paul Singh. "Her addition to this office furthers our commitment to expanding patient access to high-quality care."
Arpy looks forward to continuing her passion for providing quality, patient-centered care and is currently accepting new patients. To schedule an appointment, please call 512-345-8688.
About U.S. Dermatology Partners
As one of the largest dermatology practices in the country, U.S. Dermatology Partners patients not only have access to general medical, surgical, and cosmetic skin treatments through its coordinated care network but also benefit from the practice's strong dermatology subspecialty thought leaders and medical advisory board. To be the best partner to its patients, U.S. Dermatology Partners is fervently focused on providing the highest level of patient-first care, and its team, therefore, includes recognized national leaders in areas such as clinical research, psoriasis, and Mohs Surgery. To learn more, visit usdermatologypartners.com.