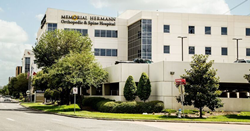 BELLAIRE, Texas (PRWEB) April 17, 2021
U.S. Dermatology Partners has relocated their Houston South Main and Houston Medical Center offices to the newly renovated Bellaire office which will provide better access to dermatology care to their current patient base.
Physicians from the Houston South Main office include Cindy Greenberg, MD, Amy Wood, MD, and Katherine Bell, MD. They will be joined by fellow U.S. Dermatology Partners' colleagues, Board-Certified Dermatologists Annette Harris, MD, Allyson Kopel, MD, and Sindy Pang, MD who previously worked at the Houston Medical Center. The physicians will continue to provide medical and surgical dermatology, offer medical-grade skincare products, and aesthetic services including laser treatments and injectables.
The newly renovated space is located at 5420 West Loop South, Suite 4500, Bellaire, TX 77401 on the southbound side of the 610 Loop, just south of Highway 59. Our suite is located in the Sonobello building next to the Memorial Hermann Orthopedic and Spine Hospital. Free parking is available in the garage just past our building.
Both locations noticed a trend of patients moving away from the medical center area as a destination for medical care, likely due to traffic, congestion, and patients wanting to receive care in their communities and not travel for care. This is especially true for patients who might need to visit frequently for things like acne, psoriasis, and patients with a history of melanoma and non-melanoma skin cancers that require frequent monitoring and follow-up.
The new locations will have better parking, more physician coverage, and more services in one location. The office will have an aesthetician, cosmetic laser treatments, and 6 board-certified dermatologists.
For more information or to schedule an appointment, please contact the office at (713) 529-8787.
About U.S. Dermatology Partners
As one of the largest physician-owned dermatology practices in the country, U.S. Dermatology Partners' patients not only have access to general medical, surgical, and cosmetic skin treatments through its coordinated care network but also benefit from the practice's strong dermatology subspecialty thought leaders and medical advisory board. To be the best partners to its patients, U.S. Dermatology Partners is fervently focused on providing the highest level of patient-first care, and its team, therefore, includes recognized national leaders in areas such as clinical research, psoriasis, and Mohs Surgery. To learn more, visit usdermatologypartners.com.