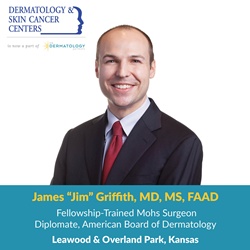 CEO Paul Singh stated, "We are excited to welcome Dr. Griffith to our team in Leawood. This location has a long history of being the go-to provider of skin cancer treatment to patients in the Kansas City area, and Dr. Griffith's expertise will enhance our services to the community."
LEAWOOD, Kan. (PRWEB) November 01, 2021
U.S. Dermatology Partners is pleased to welcome Board-Certified Dermatologist and Fellowship-trained Mohs Surgeon Dr. James Griffith to their Leawood, Kansas location.
Dr. James Griffith is a board-certified dermatologist and fellowship-trained Mohs surgeon. He earned his medical doctorate from the University of Mississippi where he was elected a member of the prestigious Alpha Omega Medical Honor Society and graduated at the top of his class. He completed his Dermatology residency and fellowship in Lasers and Photomedicine at Henry Ford Hospital in Detroit, Michigan. While at Henry Ford, he received extensive training in cosmetics, such as Botox, dermal fillers, peels and microneedling, and techniques for scar optimization and revision. He concluded his medical training with an intensive Micrographic Surgery and Dermatologic Oncology (Mohs) fellowship at Houston Methodist Hospital under the renowned dermatologic surgeons, Drs. Leonard Goldberg and Arash Kimyai-Asadi.
With nearly forty peer-reviewed publications, book chapters, and expert commentaries, including publications in the Journal of the American Academy of Dermatology, Dermatologic Surgery, Plastic and Reconstructive Surgery, and the Journal of the American College of Surgeons, Dr. Griffith has received numerous awards for the quality of his medical and surgical research and has presented in many meetings, both nationally and internationally.
Dr. Griffith uses his extensive training to deliver compassionate patient care and the most effective treatments. He believes in a personalized approach to patient care, understanding each person's individual circumstances and needs. He specializes in skin cancer treatment and diagnosis, Mohs micrographic surgery, procedural dermatology, and advanced facial reconstruction.
Dr. James Griffith practices in our Leawood and Overland Park offices in Kansas and is now accepting new patients. Contact our office today to request an appointment.
U.S. Dermatology Partners Chief Executive Officer Paul Singh stated, "We are excited to welcome Dr. Griffith to our team in Leawood. This location has a long history of being the go-to provider of skin cancer treatment to patients in the Kansas City area, and Dr. Griffith's expertise will enhance our services to the community."
Dr. James Griffith will treat patients at the Leawood and Overland Park locations and is accepting new patients. To schedule an appointment, call 913-451-7546.
About U.S. Dermatology Partners
As one of the largest dermatology practices in the country, U.S. Dermatology Partners patients not only have access to general medical, surgical, and cosmetic skin treatments through its coordinated care network but also benefit from the practice's strong dermatology subspecialty thought leaders and medical advisory board. To be the best partner to its patients, U.S. Dermatology Partners is fervently focused on providing the highest level of patient-first care, and its team, therefore, includes recognized national leaders in areas such as clinical research, psoriasis, and Mohs Surgery. To learn more, visit usdermatologypartners.com.