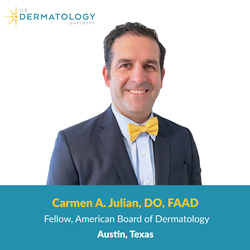 AUSTIN, Texas (PRWEB) February 09, 2021
U.S. Dermatology Partners is pleased to welcome Board-Certified Dermatologist Carmen Julian, DO, to the Austin Mueller office.
Dr. Carmen Julian is a board-certified dermatologist specializing in medical, surgical, and cosmetic dermatology. His expertise includes the diagnosis and treatment of diseases of the skin, hair, and nails in patients of all ages and skin types.
A native of Ohio, Dr. Julian earned his undergraduate degree from Ohio University graduating summa cum laude. He attended medical school at Ohio University College of Osteopathic Medicine, graduating with honors. Dr. Julian completed his internal medicine internship and an emergency medicine residency in Toledo, where he was elected chief resident his final year. Dr. Julian enjoyed a rewarding ten-year career as an emergency medicine physician and clinical faculty in Austin, Texas with the Seton Healthcare system.
Dr. Julian served as a flight physician in the Air Force Reserve for over 8 years and was deployed in support of Operation Enduring Freedom in 2014. His interest in dermatology began during his duties with the military while performing annual skin cancer screening exams for all aircrew and military members. He quickly realized his growing interest in skin cancer, dermatology, and surgery and returned to residency; this time in dermatology. He completed his dermatology residency with the Philadelphia College of Osteopathic Medicine Georgia Campus in the metro Atlanta area, again serving as chief resident.
Dr. Julian is clinical faculty with the Philadelphia College of Osteopathic Medicine. In addition to residency training in dermatology and emergency medicine, he is also residency trained in aerospace medicine. He currently maintains his board certification in both emergency medicine and dermatology with the American Board of Emergency Medicine and the American Osteopathic Board of Dermatology.
He spends his free time traveling with his wife and two children. He enjoys running, lifting weights, golf, tennis, camping, hunting, motorcycle riding, and working on his 1962 Cadillac de Ville.
Dr. Julian will treat patients in Austin, Texas at U.S. Dermatology Partners Austin Mueller. To schedule an appointment call (512) 615-1452.
About U.S. Dermatology Partners
As one of the largest physician-owned dermatology practices in the country, U.S. Dermatology Partners' patients not only have access to general medical, surgical, and cosmetic skin treatments through its coordinated care network, but also benefit from the practice's strong dermatology subspecialty thought leaders and medical advisory board. To be the best partners to its patients, U.S. Dermatology Partners is fervently focused on providing the highest level of patient-first care, and its team, therefore, includes recognized national leaders in areas such as clinical research, psoriasis, and Mohs Surgery. To learn more, visit usdermatologypartners.com.