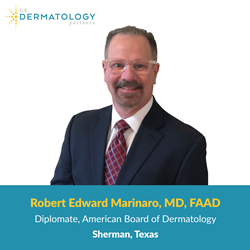 SHERMAN, Texas (PRWEB) March 08, 2021
U.S. Dermatology Partners is pleased to welcome Board-Certified Dermatologist Robert Marinaro, MD to their Sherman and Richardson, Texas offices.
Board-Certified Dermatologist Dr. Robert Marinaro grew up in New Jersey and graduated with a Bachelor of Science degree, Phi Beta Kappa with Honors, from Rutgers College. After completing his medical degree at the University of Rochester, Dr. Marinaro remained in New York at the University of Rochester for two years for an internal medicine residency. He then went on to complete his dermatology residency at Case Western Reserve University in Cleveland, Ohio. Dr. Marinaro was selected as Chief Resident in his final year of residency, where his responsibilities included supervising all the clinical research studies performed by the Case Western University Department of Dermatology.
Prior to relocating to Texas in 2012, Dr. Marinaro opened and managed his own private practice in New Jersey for 25 years. He was the first dermatologic laser surgeon in Morris County, NJ, and was the co-founder of one of the first vein treatment centers in New Jersey. He has been published in numerous academic journals and has been honored as an educational speaker for many medical, pharmaceutical, and laser companies, as well as serving on the medical advisory boards for many pharmaceutical companies. From 2006-2012, Dr. Marinaro was voted as a Top Doctor© in New Jersey Monthly, NJ Savvy, and Castle Connolly magazines. He was featured on the cover of New Jersey Physician Magazine in 2010 and was a frequent medical contributor to the internet radio show "Daytime with Donna."
Dr. Marinaro is dedicated to both the science and art of dermatology. He provides the most current and effective treatments in medical, surgical, and cosmetic procedures to patients of all ages. Treating patients with compassion and personalized attention is rewarding to him, and he feels fortunate to be in a field of medicine that he enjoys so immensely. Before joining U.S. Dermatology Partners, Dr. Marinaro practiced in Plano, McKinney, Arlington, and Mesquite. He is a fellow of the American Academy of Dermatology and is a member of the American Society of Dermatologic Surgery, the American Society of Lasers in Medicine and Surgery, The Texas Medical Association, and The DFW Dermatology Society. He volunteers annually for the Melanoma Monday free skin cancer screenings. Dr. Marinaro lives in Celina with his family and is active in the community.
Dr. Marinaro will treat patients in Sherman and Richardson, Texas. To schedule an appointment in the Sherman office call (903) 892-2126, to schedule an appointment in the Richardson office call (469) 326-3376.
About U.S. Dermatology Partners
As one of the largest physician-owned dermatology practices in the country, U.S. Dermatology Partners' patients not only have access to general medical, surgical, and cosmetic skin treatments through its coordinated care network, but also benefit from the practice's strong dermatology subspecialty thought leaders and medical advisory board. To be the best partner to its patients, U.S. Dermatology Partners is fervently focused on providing the highest level of patient-first care, and its team, therefore, includes recognized national leaders in areas such as clinical research, psoriasis, and Mohs Surgery. To learn more, visit usdermatologypartners.com.