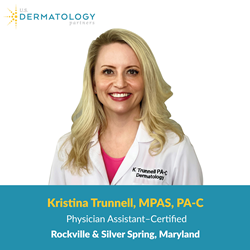 ROCKVILLE, Md. (PRWEB) April 16, 2021
U.S. Dermatology Partners is pleased to welcome experienced Dermatology Physician Assistant, Kristina Trunnell, to their Rockville and Silver Spring locations.
Kristina Trunnell earned her bachelor's degree in Health Sciences with honors from St. Francis University in 2002 and received her Master's in Physician Assistant Sciences the following year. Kristina's physician assistant career began in the field of cardiothoracic surgery at Lancaster Regional Hospital and the Ortenzio Heart Center in Harrisburg, PA. She also worked as a surgical physician assistant for general surgery, orthopedic, and cardiac surgical services at Suburban Hospital in Bethesda, Maryland. Kristina transitioned into dermatology in 2008 and provides general dermatologic, surgical, and cosmetic services for patients. She is passionate about treating all types of conditions especially eczema, psoriasis, and rosacea. She loves to combine general and cosmetic dermatology to improve her patient's lives and self-image.
Kristina has completed advanced training and is state-licensed to perform skin cancer excisions, laser hair removal, and Botox injections. She is currently board-certified, state-licensed, and holds current memberships with the American Academy of Physician Assistants, Maryland Academy of Physician Assistants, and the Society of Dermatology Physician Assistants.
Kristina lives in Frederick County, Maryland where she enjoys spending time with her two active daughters and dog Finley. In her spare time, you will find her watching her older daughter catch for her travel softball team or her younger daughter competing as a gymnast.
Kristina Trunnell will treat patients at U.S. Dermatology Partners in Rockville and Silver Spring, Maryland. For more information or to schedule an appointment call 301-681-7000.
About U.S. Dermatology Partners
As one of the largest physician-owned dermatology practices in the country, U.S. Dermatology Partners' patients not only have access to general medical, surgical, and cosmetic skin treatments through its coordinated care network, but also benefit from the practice's strong dermatology subspecialty thought leaders and medical advisory board. To be the best partner to its patients, U.S. Dermatology Partners is fervently focused on providing the highest level of patient-first care, and its team, therefore, includes recognized national leaders in areas such as clinical research, psoriasis, and Mohs Surgery. To learn more, visit usdermatologypartners.com.