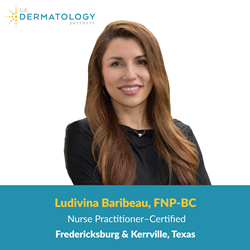 FREDERICKSBURG, Texas (PRWEB) March 01, 2021
U.S. Dermatology Partners is pleased to welcome Dermatology Nurse Practitioner Ludivina Baribeau, NP, to the Fredericksburg and Kerrville, Texas offices.
Ludivina Baribeau, FNP, is a board-certified family nurse practitioner who is passionate about providing personalized care in medical and cosmetic dermatology. She grew up in San Antonio, Texas, where she graduated from Business Careers High School. Ludivina began her undergraduate studies at Texas A&M University where she received her Bachelor of Science. Subsequently, she completed her nursing degree at The University of Arizona in 2009 under the Accelerated Nursing Program. In 2017, she earned her Master of Science in Nursing from The University of Phoenix, where she began her career as a dermatology nurse practitioner. Ludivina has moved back home to be closer to family and is proud to serve her fellow Texans.
Ludivina is well-versed in the medical management of dermatologic conditions and has a special interest in anti-aging skin care and facial rejuvenation using dermal fillers and injectables. The diversity of dermatology – medical, surgical, and cosmetic, is what drove her to the specialty. Visible skin conditions such as psoriasis, eczema, and skin cancer often have a substantial psychological and social impact on patients, and she is motivated by the opportunity to improve their skin and overall quality of life.
Outside of her medical pursuits, she enjoys cycling, hiking, traveling, and spending time with her family.
Ludivina will treat patients at U.S. Dermatology Partners in Fredericksburg and Kerrville, Texas. To schedule an appointment call (830) 997-0898.
About U.S. Dermatology Partners
As one of the largest physician-owned dermatology practices in the country, U.S. Dermatology Partners' patients not only have access to general medical, surgical, and cosmetic skin treatments through its coordinated care network, but also benefit from the practice's strong dermatology subspecialty thought leaders and medical advisory board. To be the best partner to its patients, U.S. Dermatology Partners is fervently focused on providing the highest level of patient-first care, and its team, therefore, includes recognized national leaders in areas such as clinical research, psoriasis, and Mohs Surgery. To learn more, visit usdermatologypartners.com.