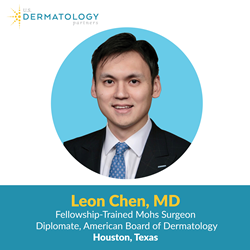 "Dr. Chen is super bright, super-nice, very talented surgically, and a great addition to U.S. Dermatology Partners!" Said, Dr. Mark Price
HOUSTON (PRWEB) August 21, 2020
U.S. Dermatology Partners is excited to welcome Board-Certified Dermatologist and Fellowship-Trained Mohs Surgeon Leon Chen, MD to its Houston Medical District office.
Leon Chen earned his Medical Doctorate from the University of Texas McGovern Medical School and completed his dermatology residency training at MD Anderson Cancer Center/University of Texas McGovern Medical School combined program and his Micrographic Surgery and Dermatologic Oncology (Mohs) fellowship at MD Anderson Cancer Center. He was the winner of the Review Article Incentive Program awarded by the American Society for Dermatologic Surgery (ASDS) during his time as a dermatology resident. His fellowship training focused on Mohs micrographic surgery, advanced reconstruction, and clinical research in cutaneous oncology. He was the sub-investigator of various clinical trials that evaluated the use of a hedgehog pathway inhibitor and immunotherapy for advanced nonmelanoma skin cancer. Dr. Chen's deep passion for skin cancer has led him to author more than 30 peer-reviewed research manuscripts and numerous book chapters. His research has been presented at national and international dermatology meetings. He is also the editor of the textbook, Basal Cell Carcinoma: Advances in Treatment and Research.
Chen joins highly regarded Fellowship-Trained Mohs Surgeon Mark Price, MD. Price has practiced in Houston since 1996 and has been recognized by peers in Texas Monthly in the prestigious Super Doctors Edition since the inception of the award.
"Dr. Chen is super bright, super-nice, very talented surgically, and a great addition to U.S. Dermatology Partners!" Said, Dr. Mark Price
In his free time, Dr. Chen enjoys spending time with his wife, Patty, and two young boys, Levi and Luke. He is also an avid sports fan who follows the Rockets, the Texans, the Astros as well as sports teams from his alma mater Texas Longhorns.
Dr. Chen is accepting referrals. For more information or to schedule a consultation, call 713-528-8882.
About U.S. Dermatology Partners
As one of the largest physician-owned dermatology practices in the country, U.S. Dermatology Partners' patients not only have access to general medical, surgical, and cosmetic skin treatments through its coordinated care network but also benefit from the practice's strong dermatology subspecialty thought leaders and medical advisory board. To be the best partners to its patients, U.S. Dermatology Partners is fervently focused on providing the highest level of patient-first care, and its team, therefore, includes recognized national leaders in areas such as clinical research, psoriasis, and Mohs Surgery. To learn more, visit usdermatologypartners.com.